Need in-depth personalized help?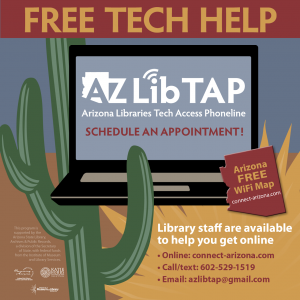 Make an appointment
The Arizona State Library has a FREE Tech Help phone line. They are here to help you from Monday–Friday, 9:00 am–8:00 pm. In your message, please indicate a time that is best to reach you. Your options for making an appointment:
Call or text the phoneline at ‪(602) 529-1519.
Leave a message and they will call you back as soon as they are able, or at the time that you request.
Email azlibtap@gmail.com‬
Complete this form to make an appointment and share some background information about your question/need/issue.
Library staff around the state will help you with:
computer basics
help with computers
help with devices, like smartphones and tablets
finding internet service offers in your area
getting things done online such as where to go for unemployment forms, online banking, distance learning, creating an online shop
using your smartphone as a hotspot wireless network
using the internet to stay connected to family and friends
accessing library online resources and digital media
...and more!
Get Support with Specific Digital Media Services
The Library subscribes to these services, which are supported by the companies that offer them. The companies offer tech support beyond what library staff can help you with. Since every device is a bit different and works differently with each service, library staff and our Infoline can only offer limited technical assistance by phone, email, and in person.
The best way to get help is by contacting the experts listed below.
The companies below are the only ones who can help you with:
Account problems

Login issues, especially if you have logged in and used the service before
Missing or missed holds
Missing titles
Due date issues

Technical problems of any sort including:

Problems with the app
Titles that don't download
Titles that don't work properly on your device
Titles that have content errors, such as missing chapters
OverDrive / Libby App
eBooks, eAudiobooks, Comics, Graphic Novels, Magazines, Streaming Video, IndieFlix, Qello Concerts
New to OverDrive or the Libby app?
Go to Getting Started and select the device you want to use.
Get Help or Tech Support
Kanopy and Kanopy Kids Streaming Video
Freegal Music - Downloads and Streaming
FAQs - Start here for any technical issue
Freegal Support Form - Log in and you will see a link to Freegal Music Support
Watch to learn how to Get Started with Libby to borrow eBooks and digital audiobooks from OverDrive or to learn expert tips and tricks!