Looking for publishing advice? Frustrated staring at a blank page? The Writer in Residence program brings local authors to the Library to consult with writers of any age, experience, or genre.
This program, generously funded by the Arizona State Library, is a favorite among local writers. To date, the Library has hosted eleven Writers in Residence. Each has brought their own special talents to the program to help people with all aspects of the writing process.
Our Writer in Residence for Summer 2021 is Marge Pellegrino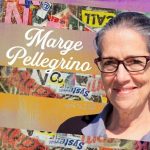 Marge Pellegrino returns this year for her second term as the Pima County Public Library's Writer in Residence.
Writing consultations and programs
It's basically Halloween season, right? Get in the mood with these scary movies!
About Marge Pellegrino
Marge jumped out of business and into writing world in 1984. Passionate about sharing the power she's found in words, Marge leads writers of all ages in workshops that invite them to think in new ways and discover their own voices.
Marge facilitated and coordinated programing for the Owl & Panther Project for 20 years, until 2018. The program was a finalist in the 2015 Out-of-School Time Awards of Excellence by the Arizona Center for Afterschool Excellence. Owl & Panther was also a finalist in the National Arts and Humanities Youth Program Award in the spring of 2016.
Marge developed and facilitated the Word Journeys program at the Pima County Public Library for twelve years. The program was a finalist for the President's Committee on the Arts and Humanities' Coming Up Taller Award for excellence in afterschool programming in 2007, and won that distinction in 2008.
Marge's work with KARE Center and Owl & Panther resulted in comics published by The Comic Book Project Tucson I Am a Super Hero edition, which touched on foster care and refugee flight respectively.
As a teaching artist, Marge has been nominated for the Tucson Pima Arts Council's Lumie Award 2008, Governor's Award 2009 and named Local Hero by the Tucson Weekly, December, 2006, and was a Juried member of the Arizona Commission on the Arts Artist Roster, 1998-2014.
Check out her books at the library or learn more on her website: MargePellegrino.com
Library Technical Assistant, Lupita C., recently interviewed the Library's Summer 2021 Writer in Residence, Marge Pellegrino. Enjoy!
Past Writers in Residence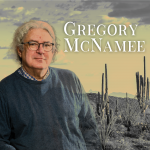 GREGORY MCNAMEE is a writer, editor, photographer, and publisher. He is the author or title-page editor of more than 40 books and author of more than 6,000 periodical pieces, including articles, essays, reviews, interviews, editorials, poems, and short stories.
McNamee is the editor of Zócalo, an arts-and-culture magazine published in Tucson. He is a contributing editor to the Encyclopaedia Britannica. He is also a contributing editor to Kirkus Reviews, the leading publication of the book trade. He writes regularly for many other journals and sites, and his work has appeared in such venues as Science, Washington Post, Los Angeles Times, Outside, Smithsonian, AARP, and Native Peoples.
McNamee operates Sonora Wordworks, an editorial and publishing service, and he has been involved in the publication of more than 500 books. He is also the publisher of Polytropos Press.
McNamee is a lecturer in the Economics Department of the Eller College of Management and a research associate at the Southwest Center of the University of Arizona. He is also a longtime member of the Speakers Bureau of Arizona Humanities.
See Gregory McNamee's books in the Library's collection.
The Writer in Residence Program is made possible by the Arizona State Library, Archives, and Public Records, a division of the Secretary of State, with federal funds from the Institute of Museum and Library Services.