Looking for publishing advice? Frustrated staring at a blank page? The Writer in Residence program brings local authors to the Library to consult with writers of any age, experience, or genre.
This program, generously funded by the Arizona State Library, is a favorite among local writers. Each has brought their own special talents to the program to help people with all aspects of the writing process. Writers are funded from February through July each year.
Our current Writer in Residence is Estella González
Our spring Writer-in-Residence, Estella Gonzalez, will have office hours in February, March, and April 2023.
Estella will offer eight 30-minute one-on-one sessions per week, by appointment:
Talk to her regarding all aspects of your writing and publishing journey.
In addition to one-on-one sessions, here are upcoming workshops:
Mapping Memory Workshops
No related upcoming events.
About Estella González
Chola Salvation, published by Arte Público Press in April 2021. Her work has also been published by Kweli Journal, Huizache, Asteri(x) Journal, and other literary journals. Her poetry has been anthologized in What They Leave Behind: A Latinx Anthology and Nasty Women Poets: An Unapologetic Anthology of Subversive Verse by Lost Horse Press.
Estella González is the author of the award-winning short story collection,
Her stories have garnered numerous distinctions and awards including Cornell University's Philip Freund Prize in Creative Writing, a Pushcart Prize "Special Mention" and a "Reading Notable" for The Best American Non-Required Reading. At the annual International Latino Book Awards, she received a "Rising Star" award for Chola Salvation, which won gold medals for "Best First Book" and "Best Short Story Collection." Additionally, her short story manuscripts have been finalists for the Louise Meriwether First Book Prize and the James D. Houston Award for Western Literature.
Estella González was born and raised in East Los Angeles, which inspires her writing. She received her B.A. in English from Northwestern University and her MFA in fiction from Cornell University. She lives in Tucson with her husband and two cats.
Past Writers in Residence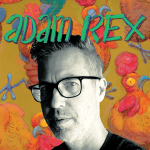 Adam Rex is the author and illustrator of more than forty books for kids. These include New York Times bestselling picture books like Frankenstein Makes a Sandwich, School's First Day of School, (with illustrator Christian Robinson), and Chu's Day (with author Neil Gaiman). His work has been adapted for film and television.
Some of his awards, including the Margaret Wise Brown Prize in Children's Literature and the National Cartoonists Society Book Illustration Award. His debut novel was shortlisted for the Andre Norton Award for Young Adult Science Fiction and Fantasy. He has also created art for games like Dungeons & Dragons and Magic: The Gathering.
DreamWorks Animation adapted The True Meaning of Smekday into the animated feature film Home (2015), starring Rihanna and Jim Parsons.
Adam Rex cites Douglas Adams (author of The Hitchhiker's Guide to the Galaxy) as his biggest influence as a writer.
He lives in Tucson, Arizona, with his cat, dog, son, and wife. www.adamrex.com
The Writer in Residence Program is made possible by the Arizona State Library, Archives, and Public Records, a division of the Secretary of State, with federal funds from the Institute of Museum and Library Services.