Explore, create, collaborate, hang out. Whatever you're into, we're here to help you explore and succeed. We've got makerspaces, online tools, in-person classes, and the entire library to help you figure it all out. Find others like you, learn from mentors, or do it on your own.
Teen 365 in action at the Library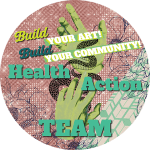 About our youth-led Health Action Team
Woods Memorial Library hosts this team. Teen interns use art, writing and the media arts to change the conversation in Pima County about youth mental and physical health. The projects interns create help the library in its mission and make a positive impact on them and the community.
Teen Volunteer Opportunities
YA tabbed catalog carousel
With your card you can borrow at the library and use all of the Library's eBooks, audiobooks, streaming video and music online.
YA Stream and Download card collection
Lists, reviews, news, and more