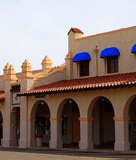 The Salazar-Ajo Library, the first branch of the Pima County Public Library system, opened in 1946. The 5,000 square foot library relocated to its current location in 1996.
Serving the communities of Ajo, Why, Lukeville, and communities on the Tohono O'odham Nation, the library is named after Lillie C. Salazar, who worked at the branch from 1985 to 1997. She was the branch manager and was known by many as "Lillie from the library."
The library serves as a location for community organizations, a homework help center for school children, and a meeting place for community residents.