---
Music is an important activity to factor into your child's day. Why is it important and what are the benefits to your child? How can you include it into your child's day?
You may not know all that is going on when a child is listening to music or is singing a song. Children are strengthening all parts of their brain: 
Music helps develop a child's social-emotional skills such as a sense of self, and regulating emotions. 
A child's motor skills are strengthened by dancing and finger plays.  
Cognitive skills are developed such as in building memory and beat. 
Children strengthen their language skills by hearing the different sounds and syllables in songs.
Here are some tips that you can follow to include music into your child's day.
Babies (0-18 months)
Sing to your baby while you are changing their diaper, feeding them, or putting them to bed. It is especially important to sing to your child during hard moments of change, such as having to leave or taking a nap.
Create little songs that are geared around what you are doing and add their name into the songs.
Listen to different types of music from slow to fast. Move your baby to the beat either by holding your baby as you move or placing them on the floor and moving their arms and legs. Pay attention to your baby's body language. If your baby is overstimulated, play slow and calming music.  
You can stream and download music for free with your library card using Freegal. 
Toddlers (18-36 months)
Have a variety of items that can be used as instruments. Allow your child to play them while singing or listening to music. Pots and spoons make great drums, Easter eggs and plastic bottles filled with rice make great maracas, foil or tin pans make great cymbals, and rubber bands with boxes make great string instruments.

Make sure to supervise your child with rubber bands. They can be a choking hazard. Not to be done alone!

Play freeze dance. When the music is on your child dances and when you turn it off they freeze. Another great way is to have them dance to the speed of the music.
Sing songs at different noise levels. Sing quiet to loud. Switch it up throughout.
Listen to music of different cultures. Singing traditional songs is important for developing language, but it is just as important to sing new and non-traditional songs.  New songs help introduce your child to other cultures. A great site to look at is Mama Lisa's World. Here you can see and listen to numerous songs from all around the world. 
Read books that are a song.
Preschoolers (3-5 years)
Sing songs that focus on finger play and body movement, such as Where is Thumpkin? and Head, Shoulders, Knees and Toes. Go to Youtube to see many videos with finger play and movement.
To help choose a song to sing create a song cube. Make a cube and place pictures of different songs on the sides. The children roll the cube to see what song to sing.
Listen to music while drawing or painting. Have your child draw or paint how the music makes them feel.
Play a game of Guess that Song. Sing a few words of the song or hum the tune to a song and have the children guess what song it is. Sing it after they guess.
Make up a melody to important phrases or words you want your child to learn. There are lots of already made tunes for cleaning up and washing your hands. Singing these daily routines makes it easier for your child to learn the skill you want them to learn. This works with educational activities as well.
---
Music CDs to check out
---
Books to check out
He's Got the Whole World in His Hands

-Gabby, Children's Team, Joel D. Valdez Main Library
---
Resources
Beyond Twinkle, Twinkle: Using Music with Infants and Toddlers
Music Is an Important Ingredient for Child Development and Parent-Child Relationships
Children and Music: Benefits of Music in Child Development
10 ways you can use music to boost your child's development
20 Songs that Add Rhyme to your Routine
---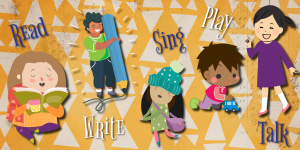 Read, Write, Talk, Sing, Play!
Singing is incredibly engaging for children and has countless early literacy benefits, which include building vocabulary, slowing down language, developing memory skills, and so much more!
Read more about early literacy and how you can make a difference in your child's life.