Why place holds?
Say you want to read a bestseller, opens a new window, chances are high that there aren't enough copies at the library for everyone who wants to read it to get it at once. And even in a few months, when no one might be waiting for it anymore, it might not be available at a convenient location.
Think of it as a waiting list combined with concierge service: you reserve the next copy that's available, to be delivered* to the library branch of your choice.
How to place holds from a desktop or laptop computer
From the search results page
Click on the magnifying glass or the word "Search" on the top right of any page to search our catalog, or click on the "Catalog" shortcut in the top middle of any page. Once you've run your search, you can place a hold right from the search results page.
For ebooks and audiobook downloads, you'll see different wording: "Request this Download" lets you check to see if a digital item's available. If all the copies are checked out, you'll be given the option to place a hold, with a waiting list that works just like physical items.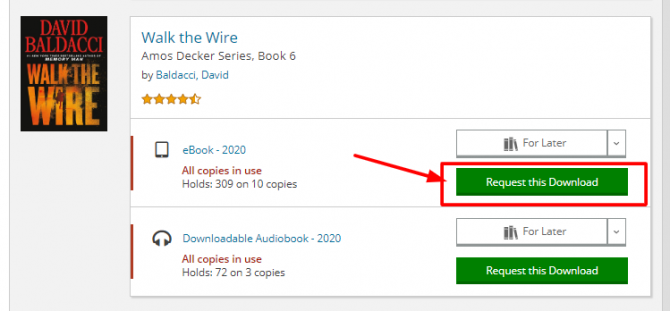 From an item's record
Find the item in the search results you're interested. In this case, I highlighted the regular edition of The Martian. Click on the item's title, to get to the detailed view of that item that lets you place a hold.
Bonus: once you've clicked on a title for this detailed view, you can also find alternate formats (say you decided to get the audiobook version instead -- I recommend it!), look for related titles, and see what comments library staff and customers have left on it.
No matter which route you take to place the hold, once you click on that button, you will select which library you'd like to be your pick up location. Once your hold comes in, you'll be notified by either an email or a phone call, and you'll have a week to pick it up.
How to place holds using our app
Didn't know we had an app? Well, we do! You can get the PCPL app for iOS or Android.
It's pretty much the same as the steps above, except that you'll tap instead of click, and use the blue plus sign once you get to an item you want. Once you touch the blue plus sign, then tap on Hold, and you'll be walked through the steps to place your hold.
Advanced hold features
Now that you have the basics down, you might want to try some of the additional options we have available for managing your holds.
One-click holds
If you have one branch where you regularly want your holds sent to, enable one-click holds (you'll have the option to do so every time you place a hold, and to turn it off, just change it in your account settings). This lets you skip selecting your pickup location every time you want to reserve a book. If you've ever had your hold sent to the wrong library because you clicked on the wrong pickup location, you've probably wished for this feature!
Pause and resume
This used to be called "suspending" a hold. Basically, it lets you keep your place on the list, without moving to the top, until you resume and turn the hold back on. Why might you want to use this feature?
You're going out of town -- since you only have a week to pick up your hold, you don't want to miss the pickup window!
You have too many holds coming in at once, and you know you can't read or watch them all within three weeks. This lets you save some for later.
You want two items to come in closer to the same time. For example, if you like reading a book at home, and listening to the audiobook on your commute, you probably would like to check them both out at the same time.
Need more info about holds? Visit the My Account FAQs, opens a new window, or contact us, opens a new window!
*Curious about a day in the life of a library delivery driver? See a colleague's blog post, opens a new window!