The Seed Library would like to invite gardeners throughout Pima County to join us for our second season of One Seed Pima County. One Seed Pima County is an opportunity for our community to share the experience of growing, harvesting, seed saving, and appreciating one, specially chosen, regional food crop together.
One Seed Pima County is also a seed saving initiative; a chance for our community to dig into seed saving. We hope that at harvest time, gardeners will not only enjoy a tasty meal from their harvested One Seed crop, but that they will also set-aside a small portion of their harvested seeds to later be joined with the One Seed harvests of others to become one, big, lovely community-saved seed donation.
In this second season of One Seed Pima County we're highlighting the Tohono O'Odham cowpea. (Learn more about the Tohono O'odham cowpea, also known as U'us Mu:N in the Tohono O'odham language.)

Cowpeas (Vigna unguiculata) are not true peas, they are a legume originally domesticated on the African continent thousands of years ago, but their roots now extend to arid lands across the globe. The Tohono O'odham cowpea is a variety which has been cultivated by Tohono O'odham farmers for generations, they are grown for their heartiness, their beneficial qualities as an intercrop, and their nutritional and culinary attributes. They embody all of the best of a desert crop AND they're self-pollinating, so they're perfect for beginning seed savers to save and collect seeds from!
Between June 24 and mid-August, check-out a packet of Tohono O'Odham cowpeas at any of the 8 Seed Library locations, the El Rio Library, and the Bear Canyon Library. You can also reserve a packet through the online catalog to be sent to you at your local branch library.

Check-out our How To Use the Seed Library video!
Grow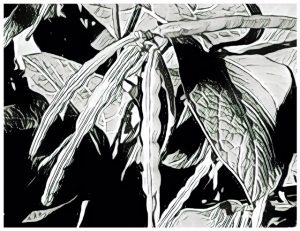 Plant Tohono O'odham cowpeas with the monsoon rains (late June is the traditional start of the monsoon season--it's also when Tucsonans celebrate El Dia de San Juan honoring the patron saint of water, St. John the Baptist). Like many of our desert-adapted crops, Tohono O'odham cowpeas thrive in sandy soils that can hold water but still offer good drainage. Plant Tohono O'odham cowpeas in basins with the eyes down, 1" deep and 4-6" apart, leaving room for them to bush out but close enough to keep each other company (a gardener friend once shared with us that plants love other plants and like to be close, but not crowded). Gardeners planting using the traditional three-sisters garden method, can use their cowpeas to interplant with their corn and squash; these crops will love the nitrogen-fixing properties the cowpeas provide the soil!
Keep soil damp until seeds have germinated. Cowpeas are pretty drought resistant, but you'll want to provide supplemental watering if rain is spotty and when the soil's surface becomes dry. Mulching around the base of your plants is recommended to help retain moisture.
Harvest
Tohono O'odham cowpeas can be harvested and eaten in the immature stage, much like green beans. To collect dry beans, allow pods to turn yellowish-brown on the vine and harvest. Pods left to dry too long on the vine will shatter, scattering cowpeas about in your garden, so keeping a daily eye on them and harvesting regularly is a good idea. Once pods are completely dry, thrash pods to release beans, remove chaff, leaves and sticks. You can even check-out seed cleaning screens  from the library to help with your cleaning.
Share
At harvest time, set a small amount of your Tohono O'odham cowpeas aside and bring them to any of the Pima County Public Library locations and also stay tuned for more information about a special end-of-the-harvest-season celebration in the new year.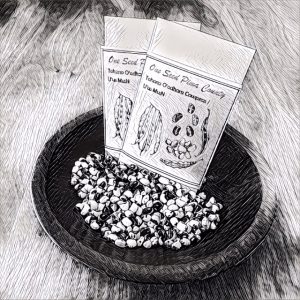 Connect
Throughout the rest of 2017 we'll be partnering with our friends in throughout Pima County to create special opportunities for our community to come together to gain a deeper knowledge and appreciation of the rich agricultural roots of our desert home, seed saving, and our own connection to the agricultural story of our home. Check-out the library's online calendar of events for special One Seed Pima County programs and workshops now through the new year.