Track your reading all summer long on paper or online!
On Paper
Read 20 minutes a day or more
Color in a character for every 20 minutes
Complete the activities on your tracker
Print a certificate when you finish or come in and pick one up
Get started!
Come in and pick one up!
OR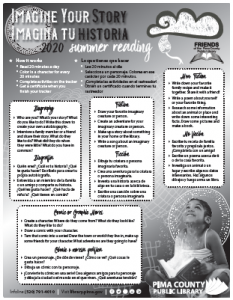 Online
Read 20 minutes a day or more
Log your minutes using your online tracker to earn points toward badges
Complete online activity missions and play games to earn more points
Write your own book review, find lists of cool books, and make wish lists of books you want to read
Print your certificate
Get started!
Badges
Tracking your reading and doing activities online earns you badges like these. Collect them all!
For Parents
Reading is like any other skill -- if you don't practice it, you lose it! This is especially true for children.
Research has taught us that children who don't read at least one book over the summer don't maintain grade level reading skills at the start of the new school year.
Keep your kids reading all summer! All reading counts!
Magazines, cereal boxes, TV subtitles, game instructions, grocery lists, everything helps! Encourage your kids to read, read, read!
Writing is a great way to support reading!
Writing builds reading skills. Help your kids write their own stories, poems, songs, journals, notes, grocery lists, lists of favorite things, their plans for the day, or whatever else they like to write!
Learning builds strong brains!
Activities help kids develop background knowledge and executive function skills. The more kids learn about the world around them and build their vocabulary, the easier it is for them to read and understand what they read. Learning is an integral part of reading!
Read
Looking for something to read? Here are some suggestions.
Story Sketches
You have some awesome stories to share and the library wants to help!
Introducing Story Sketches, a new program hosted by Pima County Public Library. See the Story Sketches above for examples!
Send us your stories up to 500 words long and the library may post it on our PCPL Kids YouTube page for everyone to see. If you want, you can express your inner artist and illustrate the story as well. If not, our library artists will create pictures to go with your fantastic tale.
We look forward to seeing your stories and displaying your masterpieces on YouTube!
If you want to send us your story:
You must be between the ages of 5-18 to submit a story.
Your story must be 500 words or less.
You can illustrate your story! Illustrations must be submitted on the Story Sketches form. We have two versions - horizontal (landscape format) and vertical (portrait format). Please pick the one that works for you.
A maximum of 8 illustrations are allowed per story.
Send in a media release form signed by your parent or we can't use your story.
Stories with inappropriate content will not be posted.
How to submit:
Email story, illustrations, and media release form to storysketches@pima.gov OR turn in at any library branch
How we will share your story:
Three stories will be randomly selected each week to be posted to PCPL youtube storysketches channel.
Writing Activities
Complete any or all of these activities:
Fiction 
Draw your favorite imaginary creature or person.
Create an adventure for your imaginary creature or person.
Make up a story about something in your home or the library.
Write a song about an imaginary creature or person.
Non-fiction
Write down your favorite family recipe and make it together. Share it with a friend! /
Write a poem about yourself or your favorite thing.
Research some information about an animal or place and write down some interesting facts. Draw some pictures and make a book.
Biography 
Who are you? What's your story? What do you like to do? Write this down to create your own autobiography.
Interview a family member or a friend and share their story. What do they like to do? What did they do when they were little? What do you have in common?
Comic or Graphic Novel
Create a character. Where do they come from? What do they look like? What do they like to do?
Draw a comic with your character.
Turn that comic into a series! Draw the town or world they live in, make up some friends for your character. What adventures are they going to have?
For Parents
Telling our stories is one of the key ways we connect with each other.  In this time of physical distancing, that can be difficult for everyone but especially for kids who may not have other ways to interact with people outside of their family.
Help your child express their creativity, imagination and even their artistic side by participating in our Story Sketches program this summer.
The story can be one you write down for them or one they write themselves (and illustrate if they like!), about 500 words or less, that our staff will turn into an online video that will be shared on our PCPL Kids YouTube channel.
Not only can they see their ideas turned into a virtual masterpiece, they can watch other stories from kids all over our community!