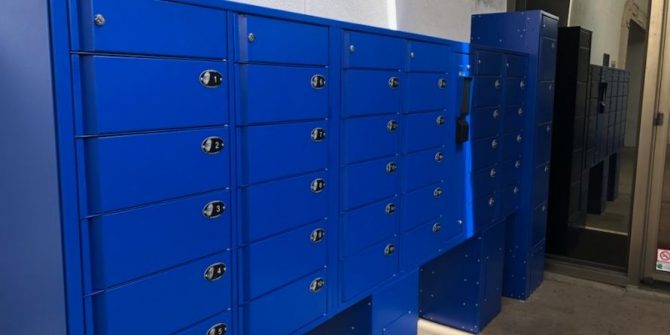 As an added convenience for our customers, we have added pickup lockers at a few libraries.
Pickup lockers are available 24 hours a day, 365 days a year, allowing you to pick up holds when it's convenient for you.
Where are they available?
Lockers are ready for use at these libraries:
Murphy-Wilmot Library
Nanini Library
Oro Valley Public Library
In the future, we plan to add lockers to:
Joel D. Valdez Main Library
Joyner-Green Valley Library
Sahuarita Library
W. Anne Gibson-Esmond Station Library
How do I use one?
When you place a hold, you will have a choice to select a Pickup Locker location.
Then, when your hold is ready, you'll come to the library, go to the lockers, and enter your library card number at the locker. The door where we've placed your items will open automatically for you. Simply take the items and enjoy!
Items will be held in the pickup lockers for three days, rather than the regular timeframe for holds, since we anticipate that lockers will be popular pickup locations.
---
Trial period for us to determine best practices
W have begun testing different procedures to see what works best. Libraries around the country manage their lockers differently, and different software allows different options. We want to use a trial period to figure out what works best in our software and in our workflows.
We will hold items in the lockers for three days, rather than our usual timeframe, since we anticipate the lockers to be very popular, and we'll need to turn over the lockers more quickly than we do our regular holds shelves.
Oro Valley Library and Nanini Library will checkout the materials to your library card before putting them in the locker. This will mean that the items will show up on your list of checked out materials before you pick them up. If you don't pick up the items within the three-day period, we will take the items off your card.
Murphy-Wilmot Library will check out the items to your library card after you pick them up at the end of the business day, so that staff can do all of that day's checkouts at one time. The items sitting in the locker for you will show as on hold until you pick them up. If you don't pick up the items in the three-day period, we will remove your hold on the items. If you don't pick up the items, they will never show as checked out to you.
Thank you for your patience as we learn how best to offer this new service!