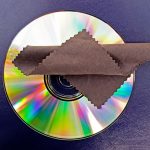 What should I use to wipe down materials?
Please do not use disinfectant wipes. They are too harsh for our materials and will cause damage. These items can be wiped down with rubbing alcohol:
Hardback books
Boardbooks
Books with plastic covers
CD cases and both sides of the CD
DVD cases and both sides of the DVD
Please do not soak materials or get pages wet. Please avoid the barcode when wiping down materials. It makes the barcode unreadable to our scanners. Thank you!
Use the Library online instead!
We encourage you to use our E-Library  and Download & Stream services for digital media, research tools, learning tools and much more!
Is the Library wiping down every item returned?
The Library is continuing to promote health and safety within its facilities by increasing its practices of cleaning and sanitizing frequently touched surfaces. 
Please note that the Library is unable to comprehensively sanitize every single item that is checked out, and as such, customers are advised to wash their hands after handling materials and avoid touching their faces.