The Library is taking limited donations of materials right now. We will accept no more than ten (10) items at once. Please do not leave large boxes of books or place more than 10 items in the exterior book drop. If this occurs, we will recycle the items.
Staff cannot accept your donations from you. Please put donated items in the exterior book drop at your local library.
---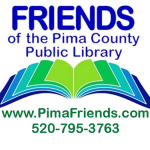 Donate books and materials to the Friends of the Pima County Public Library
The Friends accept donations at the Book Barn, 2230 N Country Club Rd, Tucson, AZ 85716
Donation hours: 9 am–12 pm, Monday–Saturday
As with everything else these days, there are some rules:
Please place boxed items in the tan storage unit to the east of the front doors.
Items must be in boxes and stack-able. No loose and no bags.
If shed is full we cannot accept any more for the day. Please do not leave them outside the storage shed. 
No assistance will be available to put items into storage unit.
Donation receipts will not be available.
Please note if these few rules are not followed, we may have to stop accepting donations until all restrictions are lifted. Thank you for your support.
---
Donating Money
---
Memorial Gifts
If you'd like to donate in memory of a loved one, we will put bookplates in the items we buy with the money you donate. If you want your donation to go to a specific branch of our library system, put that branch's name in the note line on your check. Please include a donation form with your memorial gift.
---
Items we do not accept
Equipment, including computers, printers, and software
eBooks of any type, since eBook leasing is based on contracts and licensing which cannot be transferred