The Library is taking limited donations of materials right now. We will accept no more than ten (10) items at once. Please do not leave large boxes of books or place more than 10 items in the exterior book drop. If this occurs, we will recycle the items.
Staff cannot accept your donations from you. Please put donated items in the exterior book drop at your local library.
---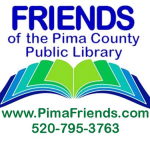 Friends of the Pima County Public Library 
Donations accepted Monday–Saturday, 9 am–noon at the Book Barn:
2230 N. Country Club
Tucson, AZ 85716
The Friends do not accept:
Magazines
VHS tapes
Encyclopedias published 1955–2012
Law sets
Damaged items
Please call 520-795-3763 with any questions.
The Friends have scheduled their first 2021 book sale for November. See all upcoming book sales.
Shop the Book Barn online at FriendsBookBarn.com
---
Donating Money
---
Memorial Gifts
If you'd like to donate in memory of a loved one, we will put bookplates in the items we buy with the money you donate. If you want your donation to go to a specific branch of our library system, put that branch's name in the note line on your check. Please include a donation form with your memorial gift.
---
Items we do not accept
Equipment, including computers, printers, and software
eBooks of any type, since eBook leasing is based on contracts and licensing which cannot be transferred