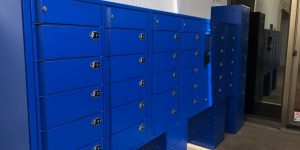 As an added convenience for our customers, we are adding pickup lockers at a few libraries. Pickup lockers will be available 24 hours a day, 365 days a year, allowing you to pick up holds when it's convenient for you.
When will they be ready?
Pickup lockers are not ready to use yet.
We don't have an exact date when the lockers will be ready. The lockers are currently being installed and procedures are being created. We hope to have them up and running soon.
Where will they be available?
Joel D. Valdez Main Library
Murphy-Wilmot Library
Nanini Library
Oro Valley Public Library
Sahuarita Library
W. Anne Gibson-Esmond Station Library
How will I use one?
When you place a hold, you will select the Pickup Locker of your choice as your pickup location. We'll add those new pick up locations when the lockers are ready for use!
Then, when your hold is ready, you'll enter your library card number at the locker, and the door where we've placed your items will open automatically for you. The items will already be checked out to you, so you'll be able to get your items and go quickly!