Conspiracy News, Summer 2017, Bearing Fruit Edition, p. 12. While it contains information about One Seed Pima County in 2017, it has timeless information about Tohono O'odham cowpeas--planting, harvesting, and seed saving. Enjoy!This article originally appeared in
"To see things in the seed, that is genius."—Lao Tzu
Hello, budding seed savers! We hope you accepted our recent challenge to add seed saving to your garden ritual and that your horticultural adventures are starting to bear fruit...or better yet, seeds.
Good seed saving practices are integral to the health of our local seed stocks—and healthy seeds are at the root of a vibrant food system—which is why we're grateful to our friends at Conspiracy News for offering the Pima County Public Library Seed Library this space to share some basic seed saving tips to help the stewardship of our local seed stocks continue to grow.                               
---
Seeds Unite Us!
During the most distinctly desert Southwest gardening period of the year—our monsoon planting season—we'd like to invite you to join us and other gardeners throughout Pima County in planting Tohono O'odham cowpeas (U'us Mu:n in Tohono O'odham) as part of the One Seed Pima County community-wide seed saving initiative.
One Seed Pima County is an idea born from the One Book, One Community reading campaign (no surprise there, we are librarians, after all), in which communities across the country come together through the reading and discussion of one specially selected book...a pretty wonderful expression of unity, yes? As champions of a strong and biodiverse seed system and connected communities, we envisioned a campaign that would similarly bring us together through the shared experience of growing, learning, and saving seeds from one specially selected regional crop. And so, One Seed Pima County germinated.
At harvest time, we hope that One Seed participants will set aside a small portion of their dry, harvested Tohono O'odham cowpeas to be shared back with the Seed Library so it can be joined with the harvests of others—one big community-wide donation that we can all plant from again next monsoon season.
One Seed Pima County will run from the start of the monsoon planting season in late June through the beginning of January, in order to coincide with the planting, growing, and harvesting of the cowpeas.
Tohono O'odham cowpeas (Vigna unguiculata) were chosen as this year's One Seed for their heat and drought resistance, history and connection to the people and soil of the Southwest, culinary flexibility, and the fact that the seeds are super easy to save. But we'll admit, we were also taken with their exquisite black and white mottled seed coat.
Grab your packet of Tohono O'odham cowpeas and let's start sowing!
A Quick Botany Pitstop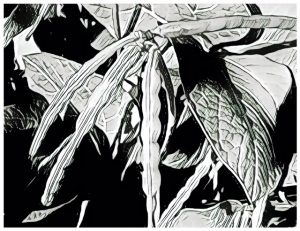 Tohono O'odham cowpeas (Vigna unguiculata) are not actually peas. They're in the bean family (Fabaceae), but are a different genus than many of the other kinds of beans that find their way in our summer gardens, such as pinto or pole bean-types of "common" beans (Phaseolus vulgaris) or the desert-hearty tepary bean varieties (Phaseolus acutifolius).
Within the genus Vigna there are several species, which can further be broken down into variety (or cultivar). Tohono O'odham cowpeas are just one variety/cultivar within the species unguiculata.
These are not always easy relationships to grasp at first, but they are important to pay attention to if you're planning to be a seed saver. The most important classification to note is species; if you're planting two things of the same species, they can cross-pollinate if precautions aren't taken (for example: Tohono O'odham cowpeas (Vigna unguiculata) and a variety like the Purple-Podded asparagus bean (Vigna unguiculata) will cross-pollinate if flowering close together).
genus = Vigna
species = unguiculata
variety/cultivar = Tohono O'odham cowpea
*Shout out to Native Seeds/SEARCH for their mentorship and knowledge sharing over the years, which has helped us refresh and hone our junior-high plant botany!
Planting
Tohono O'odham cowpeas are self-pollinating, so if you're only planting this one variety of Vigna unguiculata in your garden, you don't have to worry about possible cross-pollination. If you decide to plant Tohono O'odham cowpeas with other varieties of Vigna unguiculata, you will want to be sure to make some efforts to prevent cross-pollination with approaches such as:
Keep varieties separated in your garden by 20-50 feet
Stagger your planting times so that each variety is flowering at different times
Use pollination bags to prevent unwanted pollination
Harvesting
Tohono O'odham cowpeas can be harvested and enjoyed in the immature stage and eaten as a green bean. For dry bean collection and seed saving, allow the pods to mature fully and turn yellowish-brown on the vine. If left too long on the vine, the pod of the cowpea will shatter (break open) and send your dried cowpeas flying all over your garden, helping the plant reseed itself for the next season. Assuming you want to collect your beans, you'll want to keep a daily close eye on your maturing plants to help you catch them just before that fateful "pop!"
Storage
Dry, dark, and cool. Let these three words be part of your seed saving mantra. To preserve the longevity of your saved seeds, make sure your seeds are perfectly dry before storing. Store completely dry seeds in an envelope, baggie, or jar in a cool, dark, and dry space.
Your Tools
A sage seed saver is well armed with:
Garden journal to help her remember what she planted, where she planted, and when she planted
Masking tape to tag plants whose flowers were protected from cross-pollination
Pollination bags to prevent unwanted plant sex (aka cross-pollination). These can be hand-sewn from mesh-like fabric scraps found at the fabric store, but you can also find them at Native Seeds/SEARCH or online.
Seed saving resources (the library has many wonderful and easy to follow seed saving books for you to check-out)
Curiosity, patience, and a yen for adventure!
Dig Deeper
Check out the library's calendar of events for special One Seed Pima County programs and workshops now through the new year. For those wanting to really dig in to southern Arizona's rich agriCultural biodiversity, we recommend these inspiring reads, which are available to check out from the Pima County Public Library:
Cultural Memory and Biodiversity

Seeds of Resistance, Seeds of Hope