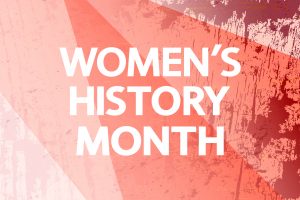 March is Women's History Month. Women have been around, well, forever, and even though that's the case, we still need mechanisms to amplify the stories and contributions of women. One of these mechanisms is Women's History Month. The Library contributes to the celebration by providing lists of items in our collection for you to explore, events (in non-COVID times), and resources you can dive into to learn more about the impact women have had on this world throughout history.
Our E-Library is a collection of online resources you can use anytime for free with your library card. To help you see the kinds of information you can access in the E-Library, we offer just a taste of what you can find in the E-Library in these 3 articles, selected from our online resources.
"March is National Women's History Month, but since women are pretty historic year-round, it begs the question: Why March? Is this month significant to women's history, or is it just an arbitrary month on the calendar?"
From: CNN Wire, March 1, 2021
E-Library resource: Opposing Viewpoints
Interested in current events and topics? Opposing Viewpoints has opinions, articles, videos, and interactive maps on today's hot-button social issues.
"Mary McLeod Bethune (1875-1955) was an educator and activist who founded a college in Florida for African-American women. She promoted education for African Americans at the national level and served on many presidential committees. Involved in the women's movement, Bethune founded and led organizations that represented African-American women in the United States."
From: Gale Encyclopedia of U.S. Economic History
E-Library resource: Biography in Context – Biographies in Depth
Biography in Context has thousands of biographies of leaders, inventors, athletes, writers, scientists, and other famous people from today and yesterday.
"In 1980, President Jimmy Carter proclaimed "Women's History Week" in March to coincide with International Women's Day. Seven years later, Congress declared all of March to be "Women's History Month." During the past 30 years, schools and communities across the country have highlighted women's contributions to history in increasingly creative ways throughout the month of March…But suffragists like Gardener did not want us to remember their names once a year. They wanted to fundamentally rewrite our nation's history by centering the experiences and contributions of women. Let us honor their legacy by doing just that."
By Kimberly A. Hamlin
From: The Washington Post, March 1, 2020
E-Library resource: U.S. History in Context
U.S. History in Context covers the most significant people, events, and topics in U.S. history. It's a comprehensive, contextual, media-rich collection.
---
Want to see more? Visit the E-Library and try out any of the myriad resources we offer. You might lose a few hours there, but it will be time well spent.
Don't have a card yet? Get a library card online. Once you have one, the E-Library is here for you, 24x7x365.