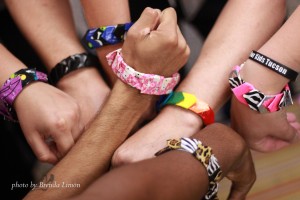 The Lesbian, Gay, Bisexual and Transgender (LGBT) Services Committee was established in 1997 to better serve southern Arizona's Lesbian, Gay, Bisexual and Transgender library users.
The committee is dedicated to upholding the Library's Mission as well as the Library Users Bill of Rights for all of our customers. It seeks to fulfill this mission by creating exciting programs such as LGBT author visits and through participation at various outreach events such as Pride in the Desert.  On a daily basis we review, order and make LGBT materials available for all PCPL users, regardless of age, location or sexual orientation. You can see lists of the committee's recommended reads here.
PCPL is one of the few public libraries in the country to have an established Lesbian, Gay, Bisexual and Transgender Services Committee. In fact, Tucson was the first municipality in Arizona to adopt a non-discrimination ordinance regarding sexual orientation.