Hey readers! I want to talk to you about a book, that I can happily say is part of the PCPL catalog:
Let me tell you: once I picked up the book (or more accurately, my kindle), I seriously couldn't put it down. I read it on the couch. On the bed. On the floor. In the break room. In the car (don't look at me that way! It was when I wasn't driving, of course!). I kinda felt like Ron Weasley caught at this opportune moment: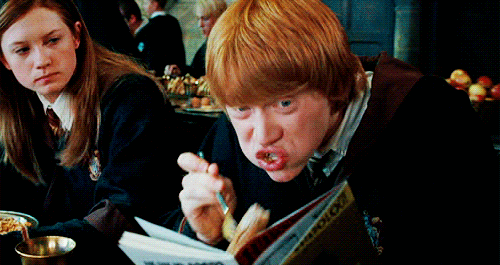 But #trust, I literally couldn't put the book down. (Okay..."literally" is a bit of hyperbole...but nonetheless...)
The book felt so familiar and fun. I was introduced to a new world of magic, dragons, a boarding school for wizards, an insidious villain worthy of loathing and a lovable boy who is seemingly destined to save the world.
Sound familiar? Harry Potter, anyone?
Rainbow Rowell knew what she was doing, and it wasn't plagiarism.
In Carry On, Rowell harnesses the power of familiar literary tropes found in various fantasy books including and arguably most heavily used by J.K. Rowling in her Harry Potter series.
The series starts with Harry Potter and the Sorcerer's Stone. For the entire series, click here.

I suggest Carry On to any reader who loves YA/Teen stuff and just doesn't want to let go of a world of mages. It contains quite a bit more of romance compared to the Potter series but who doesn't love a bit of strums on their heartstrings?
Now that I've finished the book (I was certainly reluctant!), I can give my full attention to eating...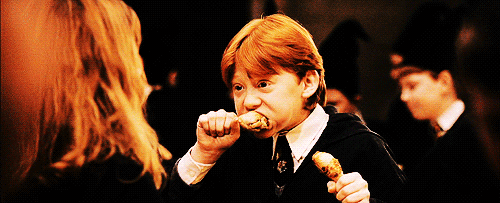 until I find my next read, of course! 🙂
Best wishes and read on my friends,
Damian
P.S.
Here is where things get a bit meta...
Rainbow Rowell wrote a book titled Fangirl. It features a lovely complex college age character named Cath who writes fan-fiction about Simon Snow, the protagonist of Carry On. And guess what? Rainbow Rowell's book Carry On is based off of the fan-fiction Cath writes about in Fangirl. How's that for a brain teaser?

(Oh yeah, and just in case it makes any difference, Carry On includes queer characters. Also, all items referenced in this post are available as an e-book and print. I just happen to be an avid e-book reader.)
All gifs courtesy of Giphy,
a free online resource for moving pictures
that are almost as cool as the moving pictures in Harry Potter...
almost.