This article by Librarian Karen Greene was originally published in the Arizona Daily Star on April 19, 2015.

I have the best job in the world. I'm the Librarian on the Move at the Joel D. Valdez Main Library downtown. I get to ride my bike to work and be a part of the buzz that's happening downtown. My passion is building community connections and making sure everyone has a book to read that they'll enjoy.
And, I want to make sure that people are having fun at the library, too.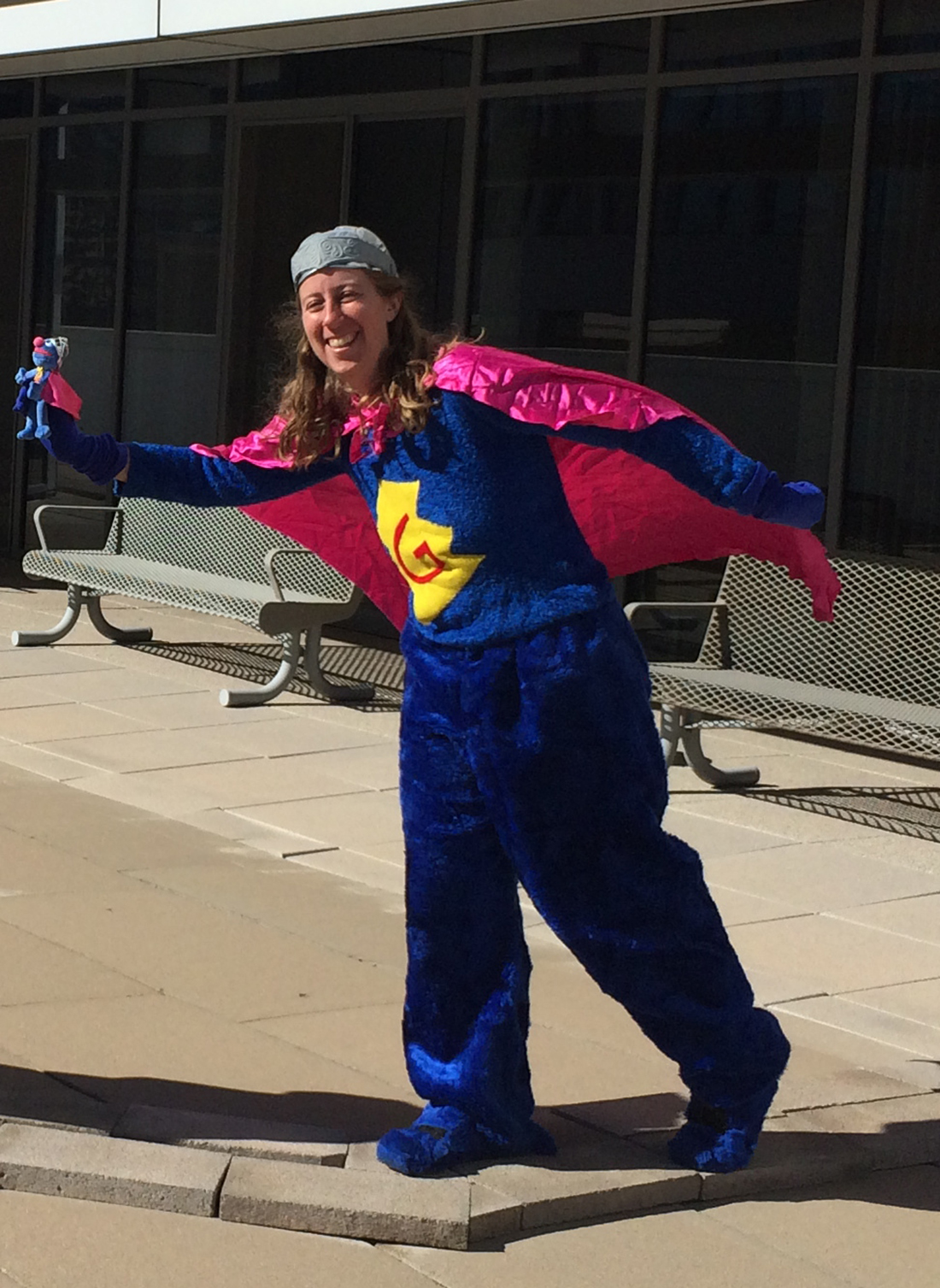 The project I'm most proud of is launching the library's Bookbike program in 2012. You can't help but smile when you see the Bookbike, and we've been able to get a great group of volunteers, staff, and the Pima County Bike Ambassadors helping out with this project. It's a hoot to ride around on our custom-built adult trike. Everyone thinks we have paletas or ice cream—but aren't free books and free reading glasses that are yours to keep even better?
Through a generous donation, we will be the first library system in the country to have a fleet of three Bookbikes. This means I'm that much closer to my goal for world domination by Bookbike!
One program that was dear to my heart involved bringing Davy and Peter Rothbart from 'Found' Magazine to Tucson. People send in notes, cards, letters, photos, or just about anything that they find out and about, and FOUND Magazine invites you to look into the lives of strangers. It's fascinating, funny, and heartbreaking all at the same time. Book nerds got to be cool for an evening with the Rothbart brothers at the Hotel Congress, plus we had a standing room-only crowd when they came for a lunchtime program at the Main Library.

Aside from sharing our love of books with you, we've hosted great community-building events as well.
A few years ago we got into the surf theme for our Summer Reading Program and hosted a few events at Himmel Park. We had the swingin' sounds of the El Camino Royales, and we planned to show the classic 1996 surf movie, Endless Summer. Unfortunately the movie got rained out in a fabulous monsoon storm, but everyone who showed up was ready to have some surfing fun.
Speaking of music, there also was the Music @ Your Library series where we showcased lots of local bands at different libraries. This was a great opportunity for people to get to know and support local music, and discover all of the local music we have in our library collection. My favorite show was the Nowhere Man and a Whiskey Girl gig at the Main Library. (Amy Ross's voice was just haunting as it floated up to the second floor.)
DIY Day in 2013 was dedicated to learning how to DIY everything from creating a rubber stamp, making your own cheese, or pole dancing with the help of Tucson's own experts. We've also celebrated Parking Day in the past, setting up a little parklet (a mini park) outside with a cozy tent to read in, bubbles to enjoy, and library swag. After the holidays this year, over 100 people showed up at the Woods Memorial Library to swap items that they didn't need any more at our Freecycle® Swap event.
Our Plaza Planter Project continues to bring the library and community volunteers together to turn the 17 planters in front of the Main Library into a showcase of what you can grow with seeds from our Seed Library. It's great to see people helping themselves to some of the herbs, peppers, and greens we have growing.
In partnership with 2nd Saturdays, we're bringing our Bike-In Movies to Jácome Plaza in front of the Main Library. We added blues dance lessons at our February event, and it truly made me smile to see folks dancing out in front of their library. If you work downtown, you might see Tai Chi classes out on the plaza during lunchtime on Thursdays. It's wonderful to be part of a healing tradition and to bring this to our community for free.
A few years ago I went to a panel discussion at a library conference, and the title of the discussion was, "Would You Be Here If You Didn't Work Here?" I have taken that idea to heart and try to create projects and programs that I would like to participate in. It's all about making community connections, having fun, and enjoying your library as a place where you can find entertainment and learn something new.
---
Karen Greene has been a Librarian with the Pima County Public Library for nine years. When she's not on a bike you might see her driving around in her car, Suparoo, which is painted with children's book characters because it makes people smile.