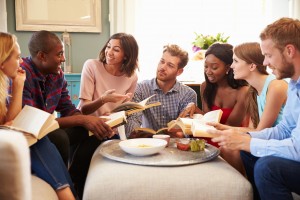 Did you know you could check out sets of books for book clubs and other groups? Once you've got yours, head over to NoveList for group discussion guides (though we can't guarantee they exist for every book on this list).
A Caboodle Kit is a kit with multiple copies of the same book that you can check out. Caboodle Kits are great for book clubs, informal book groups, or just a group of friends who want to all read the same book.
What you need to know about checking out Caboodles:
Caboodles can be reserved and sent to your local library for pickup.
Caboodles check out for 8 weeks at a time, no renewals.
When you check out a Caboodle Kit, you're responsible for the container and its contents.
Also, learn more about how we support and host book clubs.
Below is a current (as of 3/14/18) list of all our Caboodles. Or, you can search the catalog for them here, and sort by subject, author, tag, etc.
Simon vs. the Homo Sapiens Agenda

Bellevue : three centuries of medicine and mayhem at America's most storied hospital

All the Ugly and Wonderful Things

The Bad-Ass Librarians of Timbuktu

To the Bright Edge of the World

Brain on Fire : My Month of Madness

In the Kingdom of Ice : the Grand and Terrible Polar Voyage of the USS Jeannette

The Immortal Life of Henrietta Lacks

The Brief Wondrous Life of Oscar Wao

We Are All Completely Beside Ourselves

The Emerald Mile: The Epic Story of the Fastest Ride in History Through the Heart of the Grand Canyon

Ladies of the Canyons : A League of Extraordinary Women and Their Adventures in the American Southwest

The Boys in the Boat: Nine Americans and Their Epic Quest for Gold at the 1936 Olympics

Check in regularly to see if we've updated our list!