Behind the Shelf with Pima County Public Library is a podcast providing a broadly informative and entertaining look at happenings at the library, in our Pima County community and beyond.
An array of staff members share interviews, musings, reviews, and, of course, the very stuff of libraries… information!
Join us every two weeks as we dive into the wide world of libraries, including but not limited to, collections, programs and services at PCPL, presented with a healthy dose of nerding out!
Listen and subscribe on Apple Podcasts, Stitcher, Spotify, Anchor, Google Podcasts, and more.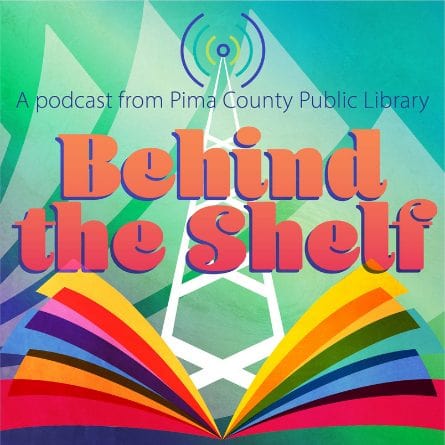 Episode Two of Behind the Shelf with Pima County Public Library brings an interview with children's librarian Davida Larson and award-winning preschool educator Ben Collinsworth. Listen along as they discuss the ins and outs of choosing the perfect picture book for your preschooler and they will battle their wits in a friendly game of picture book trivia.
Then, John and Brian roll the dice again—but not before John tells us all about his virtual trip to Asia—and how he got there without ever leaving the non-fiction section of the library.
Oct 8, 2021
S1E1: A decade of biking and blooming
In this premiere episode, Brian has a lively conversation with Justine and Karen about Pima County Public Library's Seed Library and Bookbike. We discuss the origins of the services, how they've grown, the community organizations we have partnered with, and the many things which make the Seed Library and Bookbike services so special.
Also, John and Brian introduce listeners to a recurring segment, Dewey Deci-Roll. Imagine a spinning globe of Earth, and slowing it down with a finger: wherever it lands, that's where you travel. Like that, the heart of "Dewey Deci-Roll" (A.K.A. "Dewey Decimal Roulette") is exploration. Exploring the depths and shallows of human knowledge, within your public library's non-fiction collection. Each segment, Brian and John randomly generate a number between 000 and 999 — the same range as Dewey Decimal. With that call number, each segment, they dive into a serendipitous subject…with both hope and abandon. Tune in; join the expedition.
Sep 24, 2021