Update 08.24.18: The Library is now expected to open in October 2018. Thank you for your patience.
---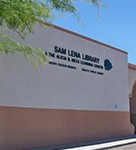 (TUCSON, Ariz.) – Beginning October 29, 2017, the Sam Lena-South Tucson Library, located at 1607 S. Sixth Avenue, will be closed temporarily as it undergoes renovation. The Library is expected to reopen in early summer 2018.
The project will be led by Pima County Facilities and will include an overhaul of the current 4,777 square-foot library to create a more purposeful space for customers.
The Library, which opened in 1986, serves as a vital resource for South Tucson community members who rely on it for access to materials, public computers, wifi, and meeting and study space. On average, more than 9,500 people visit the Library monthly.
While the project does not include an expansion, numerous changes will maximize the limited square footage and transform the layout. Renovation highlights include:
Reorienting the building with a new entrance off the City of South Tucson Dan Eckstrom plaza
Updated collection, furnishings, and flooring
Addition of 13 public computers and improved wifi capacity
Larger children's room and creative youth space for tweens and teens
Open floor plan to allow for more natural lighting
New study rooms and an additional community meeting room
Upgraded service desk
Curbside book drop
"This renovation has been a long-time coming and we're really excited about it. Making better use of the space is going to drastically change the way we're able to interact with customers and serve our community," says Library manager, Kelly Wilson.
Customers should note that reserves will not be available for pickup at Sam Lena-South Tucson Library during the closure. Beginning immediately, customers should choose an alternate location when reserving library materials online. The book drop will not be available to return items while the Library is closed. Materials can be returned to any nearby library.
Nearby libraries are:
A full list of Pima County Public Library locations, including hours and features, can be found online.
###
About Pima County Public Library
For more than 100 years, we have been here for people just like you. Today, in our libraries, online, or out in the community, our dedicated staff and volunteers are always looking ahead to help you find what you're looking for. Every day, we're making our mission a reality by educating and connecting people and inspiring ideas.