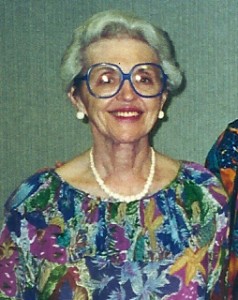 Betty Holpert's signature accessory was a pair of VERY oversized Liz Claiborne glasses.  She had more than one pair – frames in black, crimson, and periwinkle.
The lenses were clear but if you looked closely you'd swear they were rose-colored – a mirror of the way she viewed the world – especially the library world.  For Betty, libraries were rose-colored palaces containing treasures  - information, knowledge, today's news, yesterday's history, entertainment and abundant literary riches for all ages. You just had to walk through the doors.  If you were fortunate to walk through the door where Betty worked you would meet the most welcoming of tour guides – greeting you with the warmest of smiles, sharing your curiosity, eager to supply whatever you wanted, totally non-judgmental.
Betty began her career when PCPL was TPL (Tucson Public Library). She first started in Technical Services and then moved over to Public Services – serving as Manager of Murphy-Wilmot Library and Joel D. Valdez Main Library. Her passion for the library as the most vital cornerstone of the community continued after her formal retirement. Actually, she never retired from serving the library - she became one of the most committed library advocates, serving on the boards of The Friends of the Pima County Public Library and later became one of the founding members of The Pima Library Foundation.
I consider it a privilege to have shared a part of my professional and personal life with Betty – as valued colleague and friend. I will miss her always.
~Rona Rosenberg, Kirk-Bear Canyon Library
---
Betty Holpert, long-time library employee and life-long library supporter, passed away on Sunday, July 26, 2015.
Many staff members have fond memories of Betty, who was ever-present at library functions long past retirement. She always remembered your name, the names of your family members, and where you worked. And this was a busy woman! Many of us regard Betty as the epitome of what a librarian should be.
Rest in peace, Betty.
From Betty's family: For those wishing to honor Betty, please take a child to the library to get a library card, an action Betty regarded as one of the greatest gifts an adult can give to a child; enjoy and support your local library; call or lunch with a friend; and contribute to the Pima Library Foundation, P.O. Box 13245, Tucson, AZ 85732-3245.