Tara Foxx-Lupo was honored at the Arizona Library Association's (AzLA) annual conference in Scottsdale on Nov. 14 with the AzLA Outstanding Library Service Award. Tara, a Senior Librarian for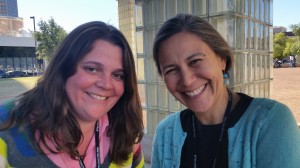 Teen and Adult Services, wrote the grant and served as the project manager for the Welcome to the Library video series for non-English speakers. She developed partnerships between the Library, the University of Arizona's Bureau of Applied Anthropology, and the local refugee and immigrant communities to produce a series of how-to-use-the-library videos in five languages, including Arabic, Maay Maay, Nepali, Somali, and Spanish.
Young Adult Services Manager Jen Nichols was selected as a 2014 40 Under 40 honoree by the Tucson Hispanic Chamber of Commerce and the Arizona Daily Star for her work in transforming how the Library provides services to youth in our community. Jen developed the Library's CreateIT program in 2010 to not only teach teens the technical skills they'll need, but to help teens and library users with the skills to assess and think critically about the media influences they face each day. Starting in 2012, Jen led a team of staff, consultants, and 22 youth to create downtown Tucson's newest youth center, 101 at the Main Library. Nearly 100 teens showed up to celebrate the center's grand opening on Oct. 17. 101 is located on the second floor of the Joel D. Valdez Main Library.