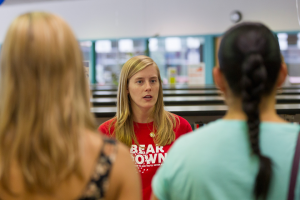 (TUCSON, Ariz.) – At Pima County Public Library, we dream big and believe anything is possible. Getting ready for college can be overwhelming, but it doesn't have to be!
Beginning July 17, the Library will offer a series of free programs designed to help high school students build and expand the skills they'll need to achieve their college dreams.
All programs are free, open to the public and held in the 101Space for teens at the Joel D. Valdez Main Library (101 N. Stone Avenue):
Mon, Jul 17
9am–Noon: Life Skills
Learn how to effectively deal with the challenges of everyday life that aren't taught in school!
Mon, Jul 17
1pm–4pm: Job Skills
Prepare for your future by discovering the skills you'll need to pursue your dream career path.
Tues, July 18, 9am–3pm: SAT Readiness
Get tips for overcoming stress and connecting to the resources that will help you do your best.
Wed, July 19, 9am–3pm: ACT Readiness
Time management, organization, confidence, and more… Unlock the secrets to acing the test!
Thurs, July 20, 9am–Noon: Financial Skills
Explore the principles of creating and maintaining a healthy budget.
This week-long series of events culminates with College Prep Day on Sat, July 22, 10am–2pm. Featured presenters included representatives from UA Bridge and the Tucson Regional College Access Center, among others. Attendees can choose from workshops ranging from FAFSA/Federal Student Aid to College Greenlight, and meet recruiters from Pima Community College, the University of Arizona, Arizona State University, and Northern Arizona University.
"Navigating and balancing big decisions and deadlines on the cusp of adulthood can be a real challenge," says Kendra Davey, Library Program Manager for Literacy Initiatives. "The Library is here to help teens explore their options and make the whole process less stressful. These events are designed to encourage teens and make life easier for them."
Learn more about these and other events at library.pima.gov.
###
About Pima County Public Library
For more than 100 years, we have been here for people just like you. Today, in our libraries, online, or out in the community, our dedicated staff and volunteers are always looking ahead to help you find what you're looking for. Every day, we're making our mission a reality by educating and connecting people and inspiring ideas.