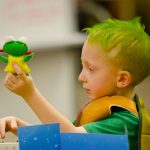 (TUCSON, Ariz.) – Mark your calendars! Pima County Public Library's annual MegaMania!! event is back. Join us on Saturday, July 15 from 1 to 6pm at Pima Community College Downtown for an afternoon of free, family-friendly activities, workshops, games, and presentations.
Now in its seventh year, MegaMania!! is bigger and better than ever. This is one event you don't want to miss!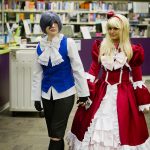 Bring your family and choose from a variety of imagination-igniting activities, including crafting your own cosplay costume, hanging out in the gamer's den, listening to your favorite local artists and prominent authors, exploring pop culture topics, testing your skills in an escape room, and so much more!
Don't have a cosplay costume at home? Don't worry—use our supplies to make your own! Plus, you can attend workshops and learn what it takes to make unique steampunk jewelry and get expert tips and tricks on crafting the best armor.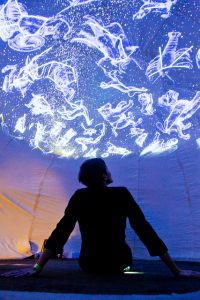 At MegaMania!! there's something for everyone. Visit the Lightsaber Academy to learn sword techniques, or pop into the Portable Planetarium and discover video game astronomy. Attend writing workshops on mini comics, horror, and surrealistic poetry and take your writing to a new level. Other workshops to choose from (or attend them all!) include Chinese calligraphy, henna, and origami. You can also watch live performances from Lykiska Tribal Fusion Bellydancing and Tucson Kendo Kai, among others.
Visit the Library's website to see a complete MegaMania!! schedule.
Jusdina Nolin-Brown co-chairs this year's MegaMania!! planning team. She says, "It's a wonderful event that our community has wholeheartedly embraced. I think it hits the mark in all that it offers. There's so much to choose from and explore. People of all ages—entire families, in fact—really get into it and let their creativity and curiosity take over."
Did we mention it's ALL FREE? That includes pizza, drinks, and snacks in the Cantina!
MegaMania!! is made possible through generous partnerships with the Arizona State Library, Archives, and Public Records, the Friends of the Pima County Public Library, Pima Community College, the Community Food Bank of Southern Arizona, and Brooklyn Pizza Company.
Visit library.pima.gov to learn more today! Questions? Call 791-4010.
###
About Pima County Public Library
For more than 100 years, we have been here for people just like you. Today, in our libraries, online, or out in the community, our dedicated staff and volunteers are always looking ahead to help you find what you're looking for. Every day, we're making our mission a reality by educating and connecting people and inspiring ideas.