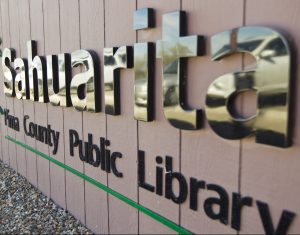 (TUCSON, Ariz.) – A decision about hours at the Sahuarita Library has been approved by both the Library Advisory Board and Pima County Administrator, Chuck Huckelberry.
The hours at the Sahuarita Library will not change. The hours will remain as:
Sunday: Closed
Monday: Closed
Tuesday: 10am-6pm
Wednesday: 10am-6pm
Thursday: 10am-6pm
Friday: 10am-5pm
Saturday: 9am-5pm
The decision comes after community members in Sahuarita shared their feedback at a Library Advisory Board meeting and a public forum in September.
###
About Pima County Public Library
For more than 100 years, we have been here for people just like you. Today, in our libraries, online, or out in the community, our dedicated staff and volunteers are always looking ahead to help you find what you're looking for. Every day, we're making our mission a reality by educating and connecting people and inspiring ideas.