Libraries are offering limited services.
Library and Curbside Pickup Hours:
Monday, Tuesday, Thursday, Friday, 10 am–5 pm
Wednesday, 10 am–6 pm
Your visit will be short as we keep capacity low.
Please plan to come and go.
Masks are required to enter. No mask? We can help you outside.
We offer curbside pickup of holds!
See all Pima County memos, including COVID-19 information and service limitations.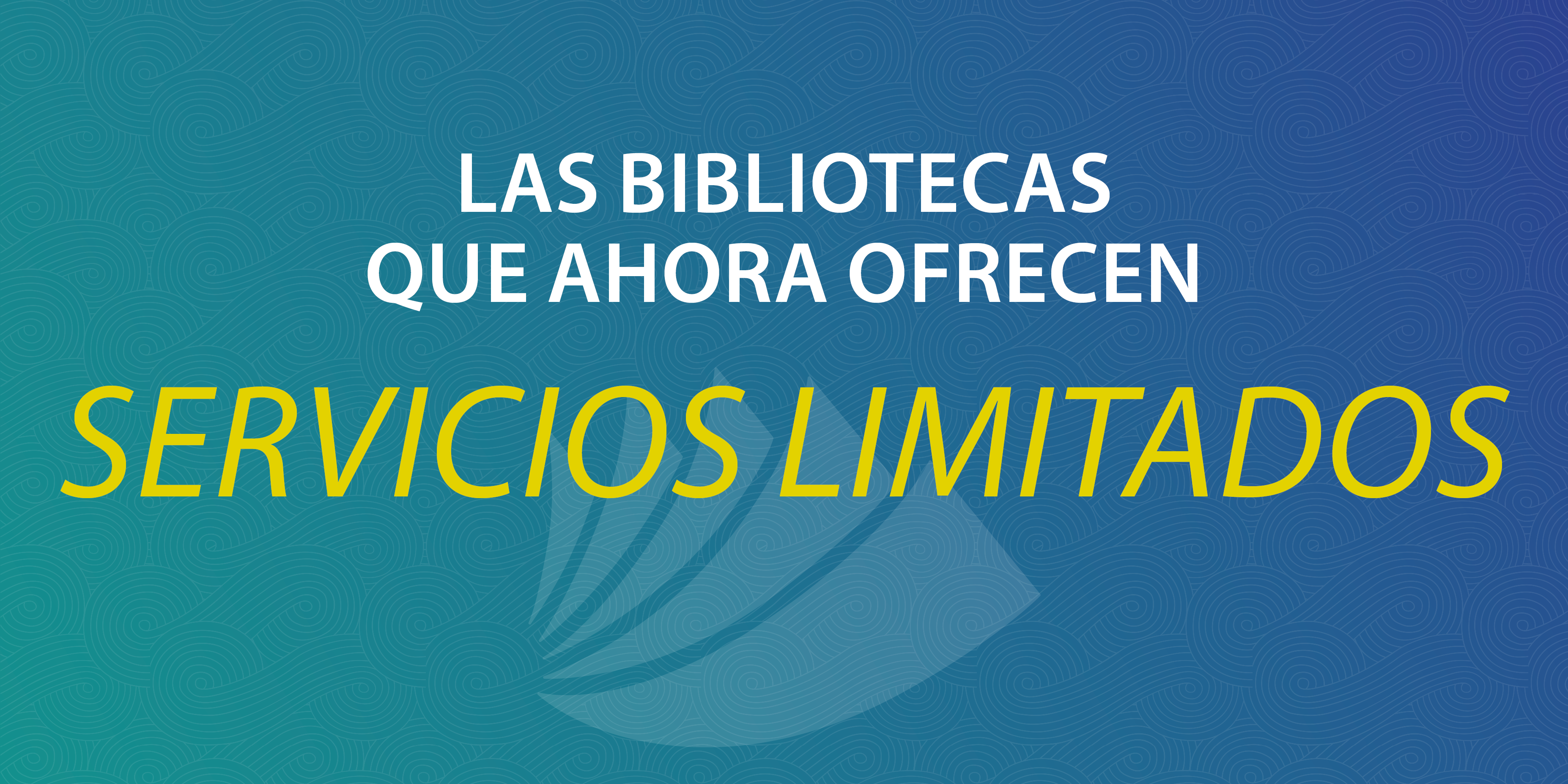 Welcome to the Library!
Your visit will be short as we keep capacity low. Please plan to come and go.
While inside the Library:
Wear a mask
Keep 6 feet apart
Sanitize your hands
If you are ill and have cold or flu-like symptoms, please do not enter.
Masks are required to enter. No mask? We can help you outside the building.
¡Bienvenido a la biblioteca!
Su visita deberá ser corta ya que mantemos baja la capacidad. Por favor, planee ir y venir.
Mientras que dentro de la biblioteca:
Use cubrebocas
Manténgase a 6 pies de distancia
Desinfecte sus manos
Si está emfermo y tiene síntomas de refriado o gripe, por favor no entre.
Se requieren cubrebocas para entrar. ¿No hay cubrebocas? El personal le ayudará con servicio en la acerca.
A short visit is allowed with mask and temperature check for these services:
Computer use
Sessions are limited to 30 minutes.
Printing, copying, faxing
Se permite una corta visita para los siguientes servicios. Tendrá que usar un cubrebocas y le tomaremos la temperatura.
Uso de la computadora
Sesión limitada a 30 minutos.
Impresión, copia, fax
Choose from the shelf, check it out yourself
Take your reading to go!
You can access Library shelves, pick out your own books, and use self-checkout. Here is what you need to know about picking out your own titles inside the Library:
Quick Visits. We're glad to have you in the stacks, but once you find your books, movies, or DVDs, check out quickly.
Be Patient Waiting. There are only so many people allowed in the building, so if maximum capacity has been reached, you'll be asked to wait outside until we can let you in.
Mask Up! Masks are required for entry and must be worn over your nose and mouth at all times in the building.
Social Distancing. Try to stay six feet apart from other customers and staff members.
Keep Kids Close. If you have kids with you, supervise them in the building at all times.
Need help finding a book? Ask for staff assistance, we'll be happy to help!
Escoja del estante, ¡anótelo a su cuenta!
¡Lleve sus libros con usted!
Puede acceder a las estanterías de la biblioteca, elegir sus propios libros y usar la máquina de autoservicio. Esto es lo que necesita saber sobre cómo elegir sus propios títulos dentro de la biblioteca:
Visita breve. ¡Nos da gusto verlo entre los estantes! Pero, al localizar sus libros o DVDs, anótelos a su cuenta rápidamente, por auto servicio.
Tenga paciencia al esperar. Hay que mantener los límites de capacidad en la biblioteca, por lo tanto, si se alcanza el máximo tendrá que esperar afuera hasta que se le permita entrar.
¡Protéjase con cubrebocas! Se requiere el uso de un cubrebocas para quienes entren al edificio. Mantenga cubierta la nariz y la boca en todo momento durante su visita en la biblioteca.
Distanciamiento social. Hay que mantener un mínimo de seis pies de distancia entre usted y los demás.
Mantenga a sus hijos con usted. Mantenga la supervisión constante de acompañantes menores en todo momento.
¿No encuentra lo que busca? Un empleado le asistirá, ¡Nos complace poder ayudarles!
You can also place holds online, and we'll get items ready for you to pick up
To get items pulled for you, please place holds online or by calling Infoline at 520-791-4010. We will tell you when the items are available for pick up. People coming by to pick up holds will come and go quickly.
Get curbside service
Staff will help you outside the building, and in most cases, you won't even have to get out of your car.
Watch for the curbside service signs for instructions on how to let us know you're here, and we will check out your holds for you and bring them out to you.
Nosotros se prepararemos los artículos para que los recojas.
También puede reservarlos en línea o por teléfono con la Infolínea al 520-791-4010, y le diremos cuando los artículos estén listos.
Cuando estén listos, nosotros nos encargaremos de buscar sus artículos y procesarlos.  El proceso tardará solo unos minutos y usted podrá entrar y salir rápidamente.
¡Ofrecemos servicio en la acera!
El personal le podrá ayudar en el exterior del edificio y, en la mayoría de los casos, ni siquiera tendrá que salir del coche.
Siga las instrucciones localizadas en los letreros en el exterior del edificio para notificarnos que ha llegado a recoger sus artículos. El personal obtendrá sus artículos y se los llevará.
Also, please note:
Meeting rooms and study rooms are still closed.
There are no in-person programs or events.
Please return items to the outdoor book drop. Staff cannot take them from you.
Books are fun to read but they can't be read here, so don't sit on the floor. Take your reading to go!
Seating is currently unavailable. Please plan to come and go.
El Rio Library is closed until further notice.
También, por favor, tenga en cuenta:
Las salas de reuniones y de estudio siguen cerradas.
No hay programas o eventos en persona.
Por favor, devuelva los artículos en el buzón de devoluciones en el exterior del edificio. El personal no puede tomarlos..
Los libros son divertidos, pero no se pueden leer aquí, así que no siente en el suelo.
No se permite sentarse en este momento. Por favor, planee ir y venir.
Biblioteca El Río está cerrada hasta nuevo aviso.
Vea un mapa de todos los horarios y las ubicaciones de la biblioteca
More about limited services
Más sobre los servicios limitados
Infolinea está aquí para responder a sus preguntas. Favor de llamar al 520-791-4010.