Limited Services  as of April 5, 2021
Welcome back inside the library!
We're excited to invite you into our buildings. Come in for a short visit, keeping in mind that services are limited.
Health & safety precautions are still in effect
---
All people must wear masks inside libraries.
Your temperature will be taken before you enter. If you have a temperature of 100.4 degrees or higher, you will not be able to enter.
Occupancy is limited.
Visits limited to maximum of 1 hour.
People wishing to enter the library should expect to wait in line.
Physical distancing must be adhered to. Stay at least 6 feet from any other person.
Indoor library visits must be short.
Children under 15 must be accompanied by a responsible adult.
Current services offered during short visits
---
Staff help with quick questions from a safe physical distance.
Browse shelves.
Pick up and check out holds.
Computer use limited to 1 hour per day. *
Self-service, pay printing, faxing, and copying.

We are accepting cash. Normal fees apply for these services.

Outdoor / curbside pickup of holds.
Wifi is on.
Wireless printing is available for a fee.
*If you come to use a computer for an hour, that to be your full visit for the day. If you have other library business, please end your computer session early to keep your visit under 1 hour.
Take advantage of online services
---
Services not currently available
---
No in-library reading, studying, or socializing.
Furniture will not be available to sit and read materials.
No newspapers available.
Meeting and study rooms are closed.
No in-person programs or events.
Library Hours
Monday–Friday
10 am to 5pm
Tuesday–Saturday
10 am to 5 pm
No public entry
Closed temporarily
Caviglia-Arivaca Library

Dewhirst-Catalina Library

Dusenberry-River Library

Eckstrom-Columbus Library

Flowing Wells Library

Himmel Park Library *

Joel D. Valdez Main Library

Joyner-Green Valley Library

Kirk-Bear Canyon Library

Miller-Golf Links Library *

Oro Valley Public Library *

Quincie Douglas Library

Richard Elías-Mission Library

Salazar-Ajo Library

W. Anne Gibson-Esmond Station Library

Wheeler Taft Abbett Sr. Library *

---

*Until 6 pm on Wednesdays

Martha Cooper Library

Murphy-Wilmot Library *

Nanini Library *

Sam Lena-South Tucson Library

Valencia Library

Woods Memorial Library

---

*Until 6 pm on Wednesdays

 

Santa Rosa Library

---

Current services at this location, Monday–Friday, 10 am to 5pm:

Curbside/outdoor hold pickup
Grab N Go food service
Outdoor assistance with copying, printing, and faxing

 

No services to the public

---

El Rio Library

Frank De La Cruz-El Pueblo Library

Sahuarita Library

Southwest Library

 
About Masks, Physical Distancing, and Temperature Checks
---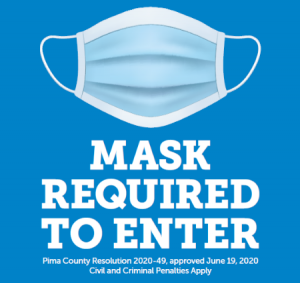 Pima County requires that you wear a mask completely and snugly over your nose and mouth to enter library buildings.
Pima County Public Library continues to adhere to the Pima County Board of Supervisors Resolution 2020-96.
The CDC guidelines that County Health officials are basing their decisions on are state: "Fully vaccinated people should continue to wear masks and stay 6 feet apart from other people in other settings, like when they are in public or visiting with unvaccinated people from multiple households."
This means you must wear a mask, covering both your nose and mouth, when:
Inside library building
Talking to a staff member
Pima County Resolution 2020-96 requires everyone to wear masks or face coverings when in public and cannot easily maintain a continuous distance of at least six feet from others.
If everyone in a business establishment (e.g. library) cannot maintain physical distancing of at least six feet at all times, then masks are necessary. Physical distancing works hand-in-glove with the face mask requirement. We at the Library have seen that maintaining six feet of physical distancing at all times is extremely difficult.
State law gives the County the authority to require the wearing of masks.
This list of frequently asked questions goes into detail about this and the requirements outlined in Pima County Resolution 2020-96.
Board of Supervisors Administrative Procedure 23-54 Temporary Wellness Checks to safeguard the Workplace during Novel Coronavirus Outbreak (Information about temperature checks and face coverings in Pima County).
More about limited services