Limited Services  as of June 1, 2021
Welcome to the Library!
Please keep in mind that services are limited.
Health & safety precautions are still in effect
---
All people must wear masks inside libraries.
Your temperature will be taken before you enter. If you have a temperature of 100.4 degrees or higher, you will not be able to enter.
Occupancy is limited. People wishing to enter the library should expect to wait in line.
Physical distancing of 6 feet from others is recommended.
Current services offered
---
Staff help with your questions from a safe physical distance.
Browse shelves.
Pick up and check out holds.
Computer use limited to 1 hour per day.
Self-service, pay printing, faxing, and copying.

We are accepting cash. Normal fees apply for these services.

Outdoor / curbside pickup of holds.
Wifi is on.
Wireless printing is available for a fee.
Take advantage of online services
---
Services not currently available
---
Meeting and study rooms are closed.
No in-person programs or events.
Library Hours
Monday–Friday
10 am to 5pm
Tuesday–Saturday
10 am to 5 pm
No public entry
Closed temporarily
Caviglia-Arivaca Library

Dewhirst-Catalina Library

Dusenberry-River Library

Eckstrom-Columbus Library

Flowing Wells Library

Himmel Park Library *

Joel D. Valdez Main Library

Joyner-Green Valley Library

Kirk-Bear Canyon Library

Miller-Golf Links Library *

Oro Valley Public Library *

Quincie Douglas Library

Richard Elías-Mission Library

Salazar-Ajo Library

W. Anne Gibson-Esmond Station Library

Wheeler Taft Abbett Sr. Library *

---

*Until 6 pm on Wednesdays

Martha Cooper Library

Murphy-Wilmot Library *

Nanini Library *

Sam Lena-South Tucson Library

Valencia Library

Woods Memorial Library

---

*Until 6 pm on Wednesdays

 

Santa Rosa Library

---

Current services at this location, Monday–Friday, 10 am to 5pm:

Curbside/outdoor hold pickup
Grab N Go food service
Outdoor assistance with copying, printing, and faxing

 

No services to the public

---

El Rio Library

Frank De La Cruz-El Pueblo Library

Sahuarita Library

Southwest Library

---

 
About Masks, Physical Distancing, and Temperature Checks
---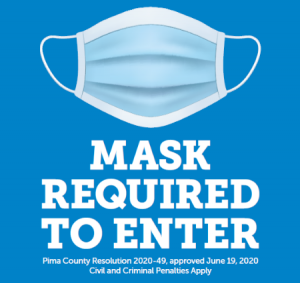 Pima County requires that you wear a mask completely and snugly over your nose and mouth to enter library buildings.
The following information was sent to all County staff from County Administrator Chuck Huckelberry on Friday, May 14, 2021:
Effective immediately:

Members of the public who are accessing County buildings will still need to wear masks.
County employees who are likely to come in contact with the public who may not be vaccinated are required to wear a mask.
County employees who are not vaccinated are required to wear a mask.
When in a County building and are not assured the public or your coworkers are vaccinated, you are required to wear a mask.
More about limited services