Services Update  as of August 10, 2021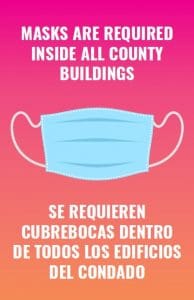 Masks are required inside all County buildings.
Please see Pima County memorandum dated August 10, 2021
We are asking that children over 2 years wear masks as well. We have masks if you need them.
Health & safety precautions
---
Please do not enter the library if you are sick or have a fever.
Visitors must continue to observe COVID-19 mitigation behaviors:
Wear masks at all times inside libraries.
No eating or drinking inside the library because masks cannot be removed.
Maintain physical distancing from others.
Wash hands frequently.
Take advantage of online services
---
Services not currently available
---
Meeting rooms are closed.
Culture passes are not yet available.
Interlibrary Loan is limited to requests for newspaper, magazine, or journal articles.
Library Hours
Monday–Thursday
10 am to 6pm

---

Friday
10 am to 5 pm

Tuesday–Thursday
10 am to 6 pm

---

Friday–Saturday
10 am to 5 pm

Monday–Friday
10 am to 5 pm
Monday–Thursday
9 am to 5 pm

---

Friday
10 am to 5 pm

Tuesday, Thursday, Friday
10 am to 1 pm
Dewhirst-Catalina Library

Dusenberry-River Library

Eckstrom-Columbus Library

Flowing Wells Library

Himmel Park Library

Joel D. Valdez Main Library

Kirk-Bear Canyon Library

Miller-Golf Links Library

Oro Valley Public Library

Quincie Douglas Library

Richard Elías-Mission Library

Sahuarita Library

W. Anne Gibson-Esmond Station Library

Martha Cooper Library

Murphy-Wilmot Library

Nanini Library

Sam Lena-South Tucson Library

Valencia Library

Woods Memorial Library

 

Frank De La Cruz-El Pueblo Library

Salazar-Ajo Library

Santa Rosa Library

Southwest Library

Caviglia-Arivaca Library

Joyner-Green Valley Library

Wheeler Taft Abbett, Sr. Library

El Rio Library