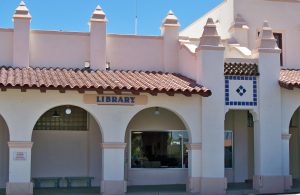 The mission of the Friends of the Salazar-Ajo Library is to support the Salazar-Ajo Library in transforming lives by educating, inspiring, and connecting people. We are an active organization that supports the Salazar-Ajo Library by fostering closer relations between the library and the community.
Through ongoing book sales, the Friends:
Sponsor an Arizona author December through April
Sponsor Arizona Humanities programs at the Library
Purchase items and supplies for Library programs beyond the budget of the Salazar-Ajo Library
Sponsor a bookmark contest for Ajo students
Assist with the monthly art exhibit reception
Provide stipends for community events
Support children's crafts and reading programs
Support the Salazar-Ajo Library:
Become a Friend of the Salazar-Ajo Library: Attend a monthly meeting the second Tuesday of the month. There is no membership fee for the Salazar-Ajo Friends.
Make a donation of money or books.
Shop at book sales.