Our home page is a wealth of information, but sometimes it can get a little confusing. Why do things change every day? Where's the search bar? Hopefully we can answer some of those questions and introduce you to some new and cool features, too!
The Header 
The Header is your go-to navigational point when you first land on our home page. If you know exactly what you're looking for, this is probably the first place you want to go. It's also what you can use to bring you back to the homepage from anywhere on the website; just click on the green "home" icon or our logo (which will either be a full logo or just the fanned pages if the header is collapsed) and you'll come back to home. The Header is also where you'll go to find all of your quick links, including to browse pages, the E-Library, the Events calendar, the catalog en español, and the Search bar (which you uncollapse by clicking on the magnifying glass).
The Body
There are all kinds of moving parts here, but all you really need to know is this: this is where all of the new stuff is. Staff create lists, write blog posts, highlight events, and find interesting things on the internet to share, and this is where it all comes out. There are several categories, which we call channels, to help you find similar content, and you can also click on those channel headings to find more of our creations under the same theme. The biggest and largest is going to be Books and Authors, but you can also find categories like Learn, Trending, We Recommend, Connect, Kids & Teens, and E-Library, as well as temporary spotlights such as Summer Learning, or Library Card Month.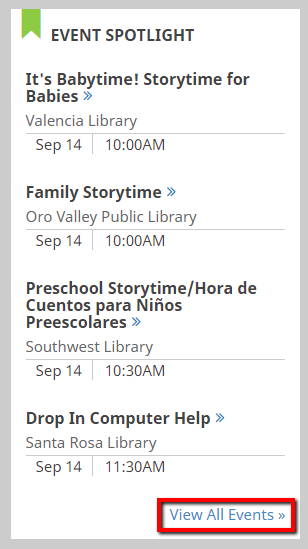 The Event Spotlight is always going to be in the same place: top left of the body. The events themselves will change, but you can always go there to see what's happening today or tomorrow. If you want more, there is a link right in that box to the full event calendar.
The rest of the body always looks the same at a glance, but will regularly change as well. Each separate channel has new links most days; each link/image combination is called a card. They're in decks of either five or twelve, depending on where you find them. The top row and the fourth row have stationary cards, so each of those channels has a deck of five. The third and fifth row are carousels—meaning you can scroll through them sideways and they eventually return to the beginning—and those are twelve-card decks. You can navigate through the smaller decks using the arrows in the bottom right corner. The carousels have them on either side.
You'll notice if you're following me down the page that there is something else I skipped: the new items carousel. This is a dynamically-updated carousel that automatically loads new books when they've been added to our catalog. It changes constantly—as long as we're buying books and movies, they're being loaded into our catalog. Every day is different with the New Books carousel. If you enjoy browsing new titles, don't miss our New and On Order Books page either, which will give you all the information you want to know about what's newly arrived and what we're waiting for. It's a great way to get a jump on books you know you'll want to put on hold. 
All the way at the bottom is the footer, which we've covered in great detail in another Tip of the Week. You can find lots of things down here, and like the Header, it's the same wherever you go. Just keep scrolling and you'll be back in familiar territory, whether you're doing a catalog search, looking at events, or reading a blog post.
The home page is an ever-changing whirlwind of new information, but it will bring you all the latest and greatest directly from library staff, whether it's book lists, reviews, resource links, or fun things you should check out this week. And don't forget, this is where you'll find the most pertinent information first, like if the libraries will be closed on a holiday or are hosting a special event.
The mobile version of the home page is very similar, just a little collapsed. You'll only see one feature at a time (starting with the Event Spotlight and moving on) but all of the elements are the same. The Header requires a little more popping out, but what doesn't on mobile?
Ready to put your new info to good use? Look in regularly to see new book and movie recs, blogs about popular and current events, and all kinds of library-related goodness all in one spot. And don't forget to use the links below to find us on social media!
Questions? Call Infoline at 520 791 4010, or contact Ask A Librarian!
What do you want to know? Any tips you'd like to share? Let us know in the comments what you'd like to see in future installments!
And if you haven't, check out our previous tips of the week!