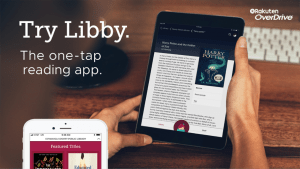 OverDrive is discontinuing the OverDrive app. Libby is the primary way for you to enjoy your digital materials! 
What does this mean for you?
You can read more about the switch here.
Want some help getting started?
Here are some of the great benefits of Libby:
Getting started the first time is easy! Libby walks you through the steps, which are simpler than what you did when you got the OverDrive app.
Libby give you a unified bookshelf for all loans and holds.
In Libby, you can list multiple library cards and keep track of multiple accounts.
There's help from OverDrive's experts built in to Libby.
The eBook reader is excellent!
You'll never miss a notification for ready holds, new magazine issues, and more. Notifications are customizable!
You can export notes and highlights you make while reading.
You can use tags to track favorite reads, wish lists, and more.
Libby is compatible with both Apple CarPlay and Android Auto.
You can use all of our "Extras," including streaming video from IndieFlix and Qello and educational courses from Universal Class only in Libby!
---
Have a question? Please send it to us. We'll do our best to find the answer for you.