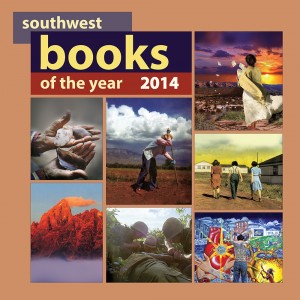 We enjoy warm sunny days, night skies ablaze with stars and a wealth of great literature about the unique place we call home. Make the most of our good fortune! Pull up a comfortable chair, throw another log on the fire and let us tempt you with some of this year's best Southwest reading.
The books we consider for the Best Reading list were published in 2014 and have southwestern settings or subjects, and those selected by more than one of the Southwest Books of the Year reviewers become Top Picks. This year fiction fans are in for a special treat—several novels number among the books that delighted the reviewers, including a new title by perennial favorite Denise Chávez, a psychological thriller set in Northern Arizona by Judy Troy and, topping the list, The Wives of Los Alamos, TaraShea Nesbit's retelling of a little known story of the Second World War. Nonfiction fans will not be disappointed with the choices for biographies, memoirs, art, science and more. And, as always, be sure to have a look at Ann Dickinson's great Southwest picks for kids.
On a personal note, we wish happy trails to long-time Southwest Books of the Year panelist W. David Laird, who is stepping back from reviewing to embark on a well-earned retirement. The former head of libraries at the University of Arizona and owner of Books West Southwest, Laird was in at the founding of Southwest Books of the Year 38 years ago, and his remarkable insight and depth of knowledge of Southwest literature and lore have been instrumental in forming our understanding of what constitutes a great regional read. We'll miss his wit, wisdom and bonhomie, but glad that he'll be, in his own words, enjoying "some time off for good behavior." We hope that time continues to be filled with great books.
See this year's picks:
—Helene Woodhams
Coordinator, Southwest Books of the Year
Librarian, Pima County Public Library
January, 2015