Want to read All The Articles about Taylor Swift? Tired of trying to find an article when you don't remember which magazine you might have seen it in? RBdigital Magazines (formerly called Zinio) has got a new feature that will help you with that!

Recorded Books has released a new feature in RBdigital Magazines! Now, not only can you browse and search magazine titles and subjects, but you can also search for articles within those magazines!
First, after going to the RBdigital Magazines site through the E-Library, make sure you're logged in!
Once you get to the RBdigital Magazines landing page, there will be a link for Article Search right next to the search box for the magazine collection. Clicking on that box will take you to a separate page, with a search box at the top right and some limiters down the left side. It will default with all of the articles we have in our collection.
There are two ways to search using the search box on the top right: with or without quotation marks. If you are searching for a particular phrase, the quotation marks will get you article titles with exactly the words you're looking for; but you might miss something that doesn't have the full phrase. For example, if we're searching for Taylor Swift without the quotation marks, we have a little over 200 articles and some might just have "Taylor" in the title. If we search with them, we get 54, and lose things like "Taylor's Swift Recovery" and other similarly punny titles. This is the nature of searching in any resource, as we know.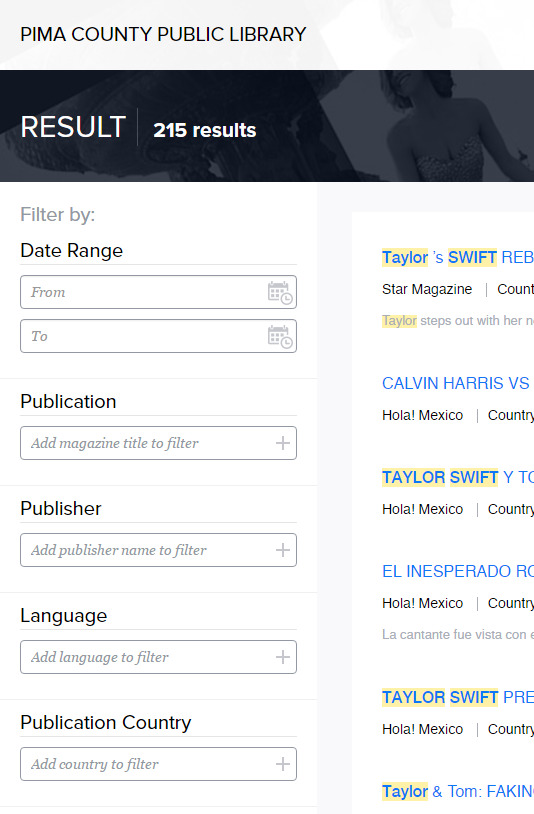 You can also use the limiters on the left to narrow down your results. You can limit by date, magazine, language, country, even publisher (in the random case you want to see articles about Spider-Man by every magazine published by Hearst.
These limiters are great if you're trying to recall something you've already read, or an article that was mentioned but you didn't get complete information, like which magazine it might have been in, or when it was originally published.
You can easily remove any limits you add. They'll be listed below each filter section, with a circled X beside it, and you can expand results by just clicking on that X! That easy!
Article Search works best on a desktop at the moment, but we'll keep you posted about any changes on Mobile.