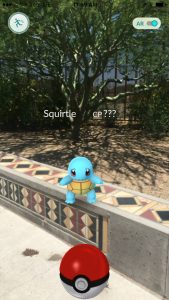 Or, a Guide for the Perplexed.
In 10 days the Pokémon GO game, one of the first to take place in real space, has gone from rumors to ubiquity. It's been breathtaking to see how quickly the game has captured the attention of young and old alike. It's easy to make fun of something so popular, but wouldn't you rather understand how it works?
This is for those who didn't grow up with Pokémon but are curious about what GO is.
What is it? The game is essentially a scavenger hunt for magical creatures that uses real space, and real places. It can only be played on a smart phone or tablet that has GPS capability. Does your device have interactive maps? Then it has GPS.
What's this "Trainer" stuff? All Pokémon game players are called "Trainers."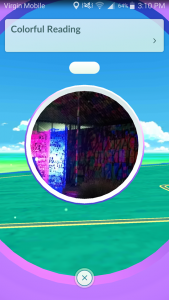 Stops? Gyms? Huh? Stops are places where Trainers can gain the Balls they use to capture the Pokémon creatures. They might also find eggs they can hatch and other desirable objects, all for free.
Gyms are virtual "battle" zones. Gyms can be unclaimed, or "controlled" by one of 3 teams named Mystic (blue), Valor (red) and Instinct (yellow). Did you play marbles as a kid? It's kind of like that. Attacks are attempts to sap the strength of the imaginary creatures (Pokémons) posted by the team in control, and drain them to 0. In real terms, this is pretty much flicking things on a phone or tablet screen. The traditional Pokémon fandom is pretty mellow and this rivalry is normally a friendly one.
But I see people playing EVERYWHERE. Even if there isn't a Gym or Stop nearby, there will be creatures – wild Pokémons -- that can be captured; however, they will change and may not always be present. This is why you see people walking slowly with their phones out and occasionally flicking something on their screen.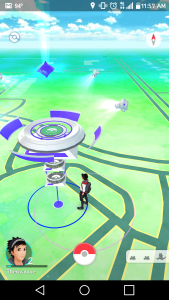 You learn quickly, however, that some areas are more fun to visit: Parks, lakes, street art, downtowns, basically any walkable public space where there are cultural points of interest or nature to enjoy. Here in Tucson, Reid Park, Brandi Fenton Park, the University, Silverbell Lake, Kennedy Park, libraries(!) and the downtown area are hotspots for gaming activity. Far fewer gaming points are located at businesses or malls. This will likely change when Niantic (the company that built the game) opens up advertising and paid "Spots" and "Gyms."
It's so weird to see so many people walking around together. Yep. Get used to it. It's one of the very positive benefits of the game that walking is required for activities like hatching eggs. The game is also intentionally social so many trainers help each other.
Skeptical? There are some really great things about this game
The fixed points mapped in the game (Stops or Gyms) are all points of cultural or historical interest: artwork, public buildings, museums, parks, etc. Players report learning things about their neighborhoods they hadn't known before, or finding artwork they didn't know was there.
There are some cheats, but basically, it is difficult to progress in the game unless you're walking around. To incubate eggs, for example, requires walking at least 5km.
Local Pokémon GO groups and chat areas are full of people organizing meetups, supporting each other in safety, and reminding each other to observe park curfews and pick up trash. It's pretty extraordinary.
It's a hoot to open the app and "see" a creature in the room with you through your phone's camera.
What about the privacy problems I'm hearing about in the news? The most recent update has corrected the level of permission required to be in line with other GPS-based games. On the other hand, all games of this type have access to tremendous amounts of information about its players. If you want to know more about the privacy issues from experts, here is the Electronic Frontier Foundation's analysis.
Do you want to learn more?