Starting today, for the next two weeks, you'll start seeing a bar at the bottom of the screen when you're on the OverDrive site on your computer. It will tell you that the "new" OverDrive is coming, and give you the chance to try it out. 
We recommend trying it out right away to get used to it before it switches over for good.
Why change it?
The new OverDrive interface makes checking out items easier. The layout is cleaner, the menus easier to navigate, and the steps from search to checkout are fewer. 
What is changing?
The majority of the changes are cosmetic. Here are a few things that will be different:
Book info
You'll have clear indicators whether a book is available or you'll have to wait for it. You will also have clear indications of whether it is an ebook or audiobook. These will show up below the image instead of on top of the cover. You'll also be able go straight to the borrow or hold page from anywhere. The little ribbon with a plus symbol inside it on the bottom right is how you add something to your wishlist.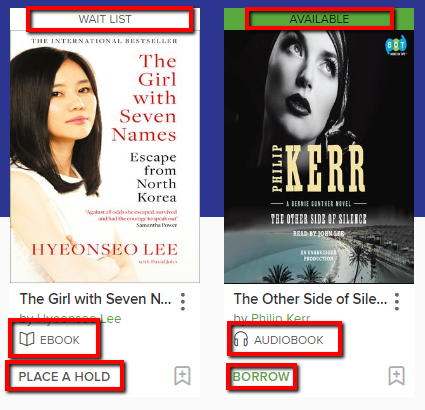 The information inside any book record is pretty much going to be the same; it's just a little cleaner, and the stuff you want is right there.
Collections menu
When you click the Collections dropdown, you'll see more straightforward options, and you'll be able to find videos faster. You probably didn't even know we had streaming video in OverDrive. Now you will see all that we have to offer more easily.
My Account
The My Account dropdown is clear and accessible, and you can go straight to whichever page you're looking for.
Once you're at your loans page, you can see what you have checked out and how long you still have it.
There is also a clear button that gets you to information on how to return something you've already downloaded.
Will I have to create a new account?
Nope! Just log in with your library card number and pin like usual. You can create an OverDrive account, allowing you to sync things faster and take out a step or two, but you don't have to.
What do I need to do?
Try out the preview, so that you're ready when the site changes.
Questions? Contact us.