The Pima County Public Library is a Funding Information Network partner with the Foundation Center, which allows us to provide access to some pretty awesome grants research databases such as Foundation Directory Online, Foundation Grants to Individuals, and Foundation Maps* at our library branches. However, I know that sometimes you just cannot get out of the office or make it to our libraries to do grants research (some of our visitors come down from Phoenix or up from Sierra Vista!), which is why I've decided to write this blog post. I will only include free online resources that you can access anywhere.
As with any grant seeking endeavor, you should first know how much money your project or program is going to cost, who it will benefit, and what the time frame will be. To keep track of how well your program fits with your potential grant maker, use a prospect worksheet.
ASU Lodestar Center's Scope of the Arizona Nonprofit Sector 
Specifically, you should start off with the Grantmaking Report section of this online document. There are lists of the top 20 grantmakers in Arizona by the number of grants they've made and also by their assets.
The Foundation Center's Foundation Stats
The Foundation Center has created a website that compiles information from the largest 1,000 U.S. foundations by giving. It shows how these foundations distribute their domestic and international giving to organizations by issue, population, and geographic focus. It includes all of the grants of $10,000 or more awarded by this set of independent, corporate, and grantmaking operating foundations, as well as unrestricted and donor-advised fund grants (when available) for community foundations. You can manipulate the tables by broad subject areas of the grants made or by the populations they served. You can find the top 50 foundations who gave in your field of interest in the state of Arizona by using these stats.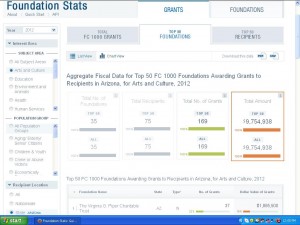 Now that you've identified some grantmakers interested in giving in Arizona, you can find out more information by searching for their names in one of these free databases. Once you've found the funder, look in their 990 forms in order to identify whether their previous grant history makes them a good match for your needs. The 990 form also includes application information and whether there are any deadlines. Here's a tutorial on how to read 990 PF forms for this step.
Foundation Directory Online Free
This tool provides public access to essential information about nearly 90,000 foundations and over 250,000 IRS Forms 990-PF.This free search tool looks a lot like the version of FDO that you'd find in the library, but there are some hidden parts of the profiles and the search form. You can also use this tool in order to find any foundations in specific geographic areas such as states, counties, cities, zip codes, and more.
Funder profiles include:
Address and contact information
Fields of interest
Program areas
Fiscal information
This website allows you to search for any nonprofit's 990 forms, including private foundations. You do have to register to see the 990s, but registering is free.
I hope this overview of free grants research resources helps you find your next funder!
*This database is only available by asking for access at the third floor reference desk of the Joel D. Valdez Main Library.