Saturday, July 15  

○

 1:00-6:00 PM
Pima Community College Downtown Campus
1255 North Stone Avenue
(NW corner of Speedway and Stone)


Happening All Day
COSPLAY | Show off your costume or make your own. RV Building
VIDEO GAMING | Have fun playing Worlds, Super Mario Cart 8, Keep Talking & Nobody Explodes, and many other favorites!! Library
TABLETOP GAMING | Revisit the classics and try your hand at gems you haven't seen. Library
TUCSON COMIC-CON! | Meet great artists and cosplayers, geek out in the Photo Booth and do a superhero activity. Pssst!...they are giving away WEEKEND MEMBERSHIP PASSES to Tucson Comic-Con this year. Don't miss your shot at this!  CC Building Loft
Blast your creativity into the future with Tech Toys! Drop in for a ninja-quick demo and leave with samurai-level skills! Library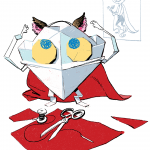 CRAFTS! CRAFTS! AND MORE CRAFTS! | Make your favorite Star Wars characters based on the Origami Yoda books by Tom Angleberger using easy folding techniques. Create a masterpiece in the abstract art style of Wasilly Kandinsy. Make your own paper sumo wrestler and challenge your family and friends to a match in the pizza box dohyō. Make a scary or friendly origami bookmark using your own imagination. Something for all ages. RV Building
MINECRAFT | Enjoy some collaborative fun and show off your creativity. Library
SAORI WEAVING | Are you a blue person? Or maybe more shades of orange? Only black and white? Smooth or bumpy? Explore your sense of color and texture with freestyle weaving on a floor loom. There will be three looms, and we'll work together on banners that will proudly be hung in our community. Amethyst Room, CC Building
CON-QUEST | This is your chance to quest in real life and potentially earn some pretty EPIC loot! Roam the con and explore new territory as you complete tasks for each of our quest givers. If you complete them all, you will be entered to win one of THREE stellar prize backpacks! Welcome Table
GIANT GAMES | You may be a PvP Master onscreen, but what about in real life? Get your team together and test your skills in a real life game of PvP! Outside Green
CANTINA | Join us for FREE pizza, drinks, and Japanese snacks in the Cantina! Not exactly a wretched hive of scum and villainy, but you never know who you'll meet in the Cantina. CC Building Café
WILL YOU ESCAPE? | Uncover clues, solve a mystery and beat the clock! You and 3 of your friends are at a Carnival and have stumbled upon the Bearded Lady's dressing tent after hearing of her murder. Your team's fingerprints are all over the place! The police will arrive in 20 minutes. Can you solve the murder case and prove your innocence before the cops come and take you away? Room 215, CC Building
Stop by the BookBike for fun giveaway surprises! Outside SL
---
Catch It While You Can
1:30 | MAGIC: THE GATHERING CARD TOURNAMENT Planes, walkers, ready your decks! Conjure dragons and fling fireballs in a single-elimination tournament to prove who the best wizard is in the entire multiverse. This tournament is open to players of all skill levels. Sign up starts at 1:00pm. Presented by Isle of Games. Library, Writing Center
1:00-3:00 | THAT'S MY TAKE: DIGITAL STORYTELLING Everyone has a great story to share and this summer, teens have made digital stories to share with you. Join us to meet and talk with the youth digital story tellers and view their digital stories.  Library, Room 153
2:00-5:00 | TRAVEL TO THE STARS IN A PORTABLE PLANETARIUM!! Shows will begin every half hour and rotate between Video Game Astronomy and Comics in the Cosmos. Seating is limited and no late entry is allowed, so make sure you make it on time. Library
3:30-4:30 | GOOGLE CARDBOARD Come learn about Google Cardboard & make your own to take home. Drop in at any point during this two hour period. Note: a smartphone is needed to use the goggles.  Library, Room 153
3:00-5:00 | LIGHTSABER ACADEMY Do wish you were a Jedi Knight? Of course you do! Teaching students in waves, the Phoenix Lightsaber Academy will teach you beginning sword techniques. RV Building 136
5:30 | QUEST REWARDS Your quest is over and your reward is at hand! If you completed the conference quest, join us in the Amethyst Room as we draw the lucky winners of our three EPIC prize backpacks. (Must be present to win) Amethyst Room (Stage)
---
Author & Artists Workshops & Panels
CC Building (2nd floor)
1:30 | MEET THE DEBUT AUTHORS
Meet these brand new authors, hear about their first book, their journey to publication, and what they're working on now.
1:30 | ARTISTS WHO WRITE
James Owen and Adam Rex both started their careers as artists, but expanded to writing books as well.  Learn about how and why they did that, ask them questions about art or writing.
1:30 | MAKE A MINI COMIC
Adam Yeater will teach you how to make tiny comic books!  All supplies provided.
3:00 | THE HORROR!
These authors write about scary things.  Hear about why they write scary things and how they manage to sleep at night after doing that.
3:00 | SURREALISTIC POETRY WITH WRITER-IN-RESIDENCE MARGE PELLEGRINO
Stretch your creativity by writing Found Poems with Writer-in-Residence Marge Pellegrino
3:00 | NINJA COOL FUN CRAFT
Make your own poseable ninja!  All supplies provided!
4:30 | ITS ALL BEEN DONE: WRITING STORIES WITH ORIGINALITY
How do you make something new and fresh when it's been done before? Hear what inspired these authors' original ideas and how they put their own personal twist on familiar ideas.
4:30 | REAL WORLD PROBLEMS
How do you research and write a book about very real, very serious problems, like refugees or self-harm?
4:30 | THE COVER STORY
Learn how to design and illustrate interesting, cool, and compelling covers that will help attract readers to your books with James Owen.
---
Loft Space
1:00-6:00 TUCSON COMIC-CON
All of us at Tucson Comic-Con are super excited to be a part of MegaMania!! 2017! This year we will have a superhero activity, fun photo area, a couple fantastic artists, and costume groups. Plus, we will be giving away WEEKEND MEMBERSHIP PASSES for this year's upcoming convention! CC Building Loft
---
Cosplay Workshops
RV Building
1:30-1:45 & 3:00-3:15 | STORYTIME WITH HAGRID
Hagrid will be your guide through a magical world of kings, queens, monsters, mermaids and unicorns. For all ages, children 8 and under require parental participation. RV 115
2:00-2:45 | Salvaged Steam
Combine vintage hardware, imagination, and gadgetry for a marvelous look. Artist Morgan Pennick shares what it takes to create her awesomely unique steampunk jewelry. RV 115
2:00-2:45 | Creative Costuming for Cosplay I
Is a recognizable persona or genre critical to your cosplay costume?  Let Cosplayer Judi Rose-Martin show you how to identify key costume elements and ways to create a costume you love. RV 116
3:00-3:45 | Introduction to Armor Making
Cosplay armorer Joey Green explains the how EVA foam used to craft cosplay armor. He will coach you on the types of foam, the tools needed plus share his tips and tricks so you too can customize armor. RV 116
---
Cultural Workshops
Amethyst Room North
Stage Presentations (approximately 30 minutes each)
1:30 | MARIACHI CORAZÓN DE TUCSON
Enjoy the lively and uniquely borderlands sound of this youth group.
3:00 | CAPOEIRA AND LATIN DANCE
Capoeira is part martial arts, part dance and all amazing to watch. Learn about this Brazilian art and some Latin dance moves as well.
4:00 | TUCSON KENDO KAI
The drama and spectacle of this Japanese martial arts will stop you in your tracks!
5:00 | LYKISKA BELLY DANCE
Middle Eastern dancing in all its mystery and flourish.
---
More Workshops
Amethyst Room South
1:00-3:00 | ORIGAMI
Japanese paper folding for all levels of ability.
3:00-4:30 | HENNA
Henna has been used as a body adornment for centuries. Find out about its cultural significance and have a design applied.
4:30-5:30 | CHINESE CALLIGRAPHY
Learn about this ancient Chinese art and how it can increase your focus and serenity.
---
MegaMania!! is made possible through generous partnerships with:
---
Special Thanks to:
The 501st Legion
Arizona Ghostbusters
Arizona Judges
Corazon de Tucson
Fantasy Comics
Isle of Games
Justice League Arizona
Lykiska
Maryam Ahmed
R-Galaxy
Rebel Legion
Saori Weaving
Southern Arizona Japanese Cultural Coalition
Tucson Comic-Con