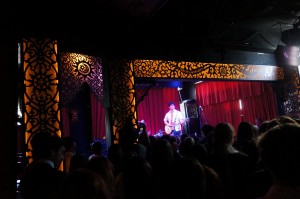 Hotel Congress is turning 30 and throwing a big ol' bash for all of us to enjoy! HoCo Fest takes place over Labor Day Weekend, with scads of music Friday, Saturday, and Sunday evenings. Hotel Congress is also curating a "Tucson Rock 'n' Roll Museum" for the event. The info on the daily breakdown is as follows:
Friday, 9/4 - Things get jumpin' right off the bat, Friday night's lineup includes fan-favorite Cracker. Another major act is Roger Clyne, who is well-represented in our Freegal collection: Roger Clyne Freegal Link.
Other bands playing Friday that are represented in the PCPL collection and Freegal are George Squier Orchestra, Naked Prey, and Greyhound Soul.

On Friday, you can also enjoy the music of Chicha Dust (while PCPL has no Chicha Dust, we do have one of the CDs that inspired the band to form in the first place), SQWRL, The Black Moods, Molton Leather, Great American Tragedy, Chick Cashman, Tom Walbank, and Mankind. Costs $10/$12 day of show. Additional info here.
Saturday, 9/5 is FREE DAY at HoCo Fest! Head on down to see Cracker's alter ego band Camper Van Beethoven, with Freegal offerings here. Also playing is Friends of Dean Martinez, with a few items in our catalog. Walter Salas-Humara is on the bill, check out the Freegal offerings here. The Sidewinders are reuniting for the event, hear their late 80's recordings on Freegal. Local favorite Al Perry is in on the fun as well, and you can see what PCPL has here. Saturday also features Pollo Elastico, Gentlmen Afterdark, Ricky Gelb, River Roses and more. Saturday is also the day that Congress will present the Tucson Rock n Roll Museum, which will feature memorabilia from the Old Pueblo's musical past. More information here.
Sunday, 9/6 ($13/$15 day of show) is the final day of HoCo Fest and is also the most international of the days. The headliner, Mexrissey is a Latin-inspired cover band of Morrissey. HoCo Fest also welcomes back Mexican Institute of Sound. The band is well represented in Freegal, which often tends to be the way with World Music. Tucson's own Sergio Mendoza will be playing his wonderful Mambo music, see the CDs in our catalog. One act I am personally looking forward to is El Vez, who, of course, is the Latin Elvis. Listen in on Freegal here. More Freegal access to HoCo's Sunday offerings here, with Joe King Carrasco. And our PCPL cup runneth over with music from John Coinman both in our catalog and on Freegal. Other Sunday Acts include Sweet Ghosts, Carlos Arzate and The Kind Souls, The Little Dinks, Chuck Wagon and the Wheels and Metalachi. More Sunday HoCo information on the Hotel Congress website.
As you can see, HoCo Fest 2015 has a whole bunch of bands. Pick your day, or, like me,  head to the Hotel Congress for the whole darn thing!