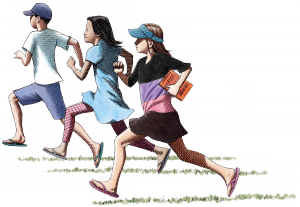 Have you heard of "summer slide"? It happens during the summer when students lose some of the progress they've made throughout the school year.
Since your library and your school are the best resources for learning and educational support, we partnered with local teachers to kick off a Summer Learning Program that will help more kids be successful in and out of school.
Using the Arizona College and Career Ready Standards (AZCCRS) as a guide, we came up with different questions and activities for our Summer Learning gameboard tracker to help students and parents dive into reading and thinking at a deeper level this summer. Not only are we encouraging kids to read 20 minutes a day, we're also supporting what they're learning in school by building their critical thinking and analytical skills.
And we're making it fun!
If you're a parent or caregiver, bring your kids to visit any Pima County Public Library, pick up a Summer Reading tracker, and view our event calendar of free programs and special events.
Let's work together to create more lifelong readers and learners!