Based on a presentation by Jim Vickers, Arizona Procurement Technical Assistance Program, Tucson office (AZPTAC), given Wednesday, January 21, 2015.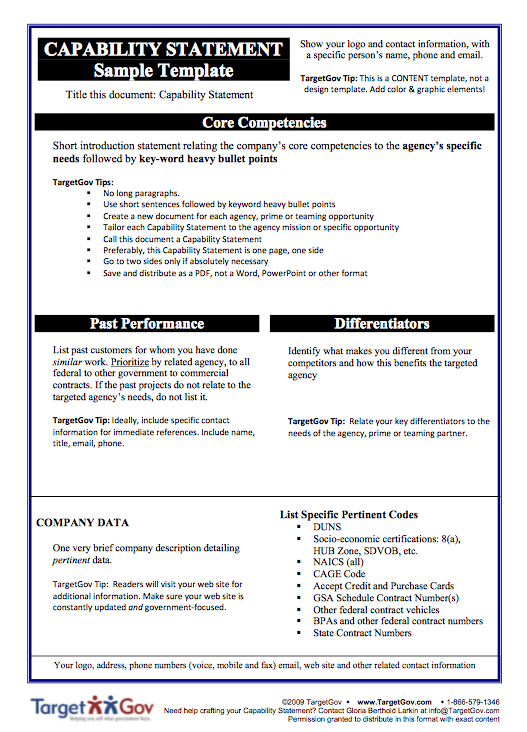 Why should you market your products or services to government agencies? 
It's the worlds largest customer, with over 2000 federal agencies. There's nothing they don't buy. The trick is to figure out who's buying what you sell.
Why might they pick you over others? You provide:
fast delivery
low overhead, lower price, quality merchandise
better customer service
you have a strong record of past performance
your business has a social mission that compliments that of the government agency you want to work with.
What are my chances? 
23% of the U.S. GSA's funds must go to small businesses, meaning business with fewer than 500 employees. Within that there are set-asides for women, minorities, and veterans.
It's a huge bureaucracy. Luckily for us, Arizona Procurement Technical Assistance Program (APTAC), can help, for FREE. They help business owners:
find contact opportunities with federal, state, or local governments (for example, selling products to the military exchange system, equivalent to grocery stores and department stores)
identify subcontracting opportunities
discover marketing opportunities
sort through bidding opportunities
and can provide advice after your contract has been awarded
Who are the customers within the government?
Department of Defense & military
Other Federal agencies
Prime contractors (here you would be a sub contractor)
State governments
Local, regional government
It's best to get on the GSA's "Schedule" which is a list of consistently reliable preferred contractors who do not have to compete for every contract. It's hard to do. Tip: Even if you're not on the schedule, you CAN contact vendors who are, and offer to sub-contract for them. AZPTAC can help you find these opportunities too.
SAM: How to start your application:
Register your business with SAM.gov, the GSA's "System for Award Management."
Create your Dynamic Small Business Module with

Your company's "Capability Narrative," a 1-page marketing tool. Construct this carefully. [sample]
Ideas for the best keywords that represent your product. You'll use these to search for contract opportunities listed in SAM.
References, testimonials and/or statistics describing your past performance.

SAM.gov, and its "BidMatch" are where you will search for RFPs. TIP: Save your successful searches (ones with 10-20 relevant hits), and you will get a daily email with new opportunities.
What else you should do:
Get a DUNS code. This should be free.
Be able to accept credit. It doesn't need to be fancy, but you must be able to take credit cards.
Be a savvy networker and market yourself at vendor fairs. Your local Chamber of Commerce should share news of these networking events on their listservs. Also? Join your professional societies.
Contact the buyer or contracting officer and develop a relationship. Listen to their needs and "pain points" for ways you can customize your product to their needs.
Build relationships with Schedule-certified businesses that you might sub-contract with.
It helps to know your business's NAICS code(s) -- this is how many of the charts are organized.
Some states and local governments aren't consistent about entering their opportunities in the SAM system, Here in Arizona contact Arizona Buyways and other local procurement sites, in addition to SAM.
Marketing yourself
Before you attend a networking event or contact someone, polish your 1-minute marketing speech. How will you quickly tell someone who you are, and what you do? What makes you unique?
Prepare and hand-out a list of past projects and previous contracts.
Do you have the capacity to meet their needs? Be able to explain.
Bring business cards.
Sample Capability Statement: See this "Capability Statement" template [pdf]. Note: it should have this info in a clear, logical format, but does not need to look exactly like this template. Be concise!
Thank you, Jim, for a very helpful presentation!
In Tucson & Pima County contact: Jim Vickers, Procurement Specialist
335 North Wilmot Road, Suite 420
Tucson, AZ 85711
Phone: (520) 623-0595
Email Address: james.vickers@domail.maricopa.edu