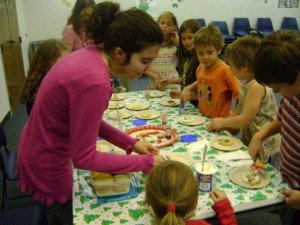 Are you thinking of volunteering in the community? Your local library is a good first place to consider. Stop by for an application or download it here.
But the library isn't the only place! Tucson has many opportunities for teens to volunteer in a variety of settings from soup kitchens to animal shelters.  Check out the list below as well as the this great list from the Tucsontopia website: Places for Teen Volunteers.
Here is a list of just a few organizations:
Community Food Bank3003 South Country Club Road, Tucson AZ 85713, 622-0525
The Food Bank addresses the root causes of hunger. Help with special events or on a regular basis. Volunteer application
Casa Maria
352 E. 25th Street, Tucson AZ, 85713, 624-0312
Casa Maria workers are devoted to feeding and clothing those in need. The soup kitchen needs volunteers from 8:30-11:30 am every day. Volunteer application
Iskashitaa
1406 E. Grant Rd., Tucson AZ 85719, 440-0100
Iskashitaa helps rebuild refugee lives with its different programs including harvesting local fruit. Volunteering information
International Rescue Committee
3100 N. Campbell, Suite 101, Tucson AZ 85719, 319-2928
Founded at the request of Albert Einstein in 1933, the IRC helps people whose lives have been shattered by disaster and conflict. Volunteering information
Bufflegrass Removal1955 E. 6th St., Tucson AZ, 85719, 626-8307
Buffelgrass is an invasive species that threatens our desert.  Find out how you can help combat this ecological threat. Volunteer Information
Pima Animal Care Center
4000 N. Silverbell, Tucson AZ 85745, 243-5900
Pima Animal Care is committed to giving compassionate care to animals and to education the public about responsible pet ownership. Volunteer information
Children's Museum Tucson
200 S. 6th Ave., Tucson AZ 85701, 792-9985
CMT is a fun, interactive children's museum. Volunteer information
United Way of Tucson and Southern Arizona
330 N. Commerce Park Loop, Tucson AZ 85745
United way is a portal for many different volunteering opportunities.