A message from our Friends (of the Library, that is)!
---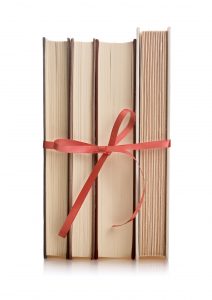 'Tis the season... for giving books!
Looking for great gifts for your family and friends? Put on your holiday sweater and bring your gift list to our special December Book Sale. This month, we're celebrating the season with displays of holiday titles, including beautiful children's books, CDs, DVDs, and puzzles.
A wide assortment of fiction and nonfiction, unique records and audio recordings, and an extensive selection of books for kids and young adults is just waiting to be discovered!
Tomorrow, Dec 9, is the Members' 1/2 Off Sale. Not a member? Don't worry! You can join at the door for as little as $20. New this year, members also get 50% off from Dec 11–15 at the Friends' Downtown Bookstore located inside Joel D. Valdez Main Library.
Dec 15–18 is the Community Sale.
For the best selection, shop on Fri, Dec 15.
On Sat, Dec 16 experienced readers (ages 55 and older) will receive 25% off their purchase.
Sun, Dec 17 is Half-Price Day.
On Mon, Dec 18 only, fill one of our bags with books for only $10.
The Book Sale is centrally located at 2230 N. Country Club Road (SE corner of Grant and Country Club).
And no holiday Book Sale would be complete without sending our best wishes to:
The librarians and staff of Pima County Public Library. Because they care, our Library is one of the best in the country!
Our members and supporters. Over 1,600 library lovers are Friends of the Pima County Public Library because they support a strong and vibrant Library system. Consider joining or volunteering to help make a difference in our community! 
Every Library program presenter who shares their passion with us. Because of their engagement, children and adults are enjoying a rich and wide variety of free programming, from family-friendly STEM activities to classes for aspiring entrepreneurs. Check out the more than 1,100 events planned through Dec 31! 
Do you love your Library? Consider becoming a Friend!
In 2018, the Friends of the Pima County Public Library, a 501(c)(3) nonprofit organization, will celebrate its 50th Anniversary.
We are a group of avid library advocates dedicated to supporting the Pima County Public Library. Since 2007, we have donated $2.3 million to help enhance Library services and programs, promote literacy and a love of learning, and encourage community involvement.
Would you like to know more about giving back to the Library? Call 795-3763 or visit www.pimafriends.com to learn about your tax-deductible membership today!