A message from our Friends (of the Library, that is)!
---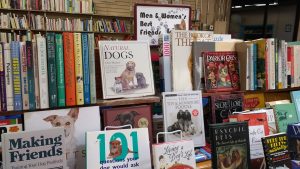 Technically summer doesn't officially begin for another week, but around here it's already feeling like the Dog Days of Summer.
Speaking of dogs, did you know the Friends of the Pima County Public Library have all kinds of books celebrating the furry friends in your life?
Visit the Friends' Book Sale on Saturday, June 17 (Members Sale) and June 24–25 (Community Sale) to find the books you need to keep your dog happy and healthy. Plus, kids will be delighted by the assortment of animal adventure stories and books filled with fun animal facts.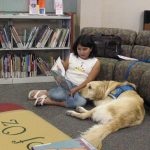 Looking for a fun family activity? Did you know that dogs love a good story? Keep cool at Pima County Public Library, where some of our favorite canines are waiting for a child to share a great book. Check out the Library's Read to a Dog Program today! Not only is it fun and offered at multiple library locations, but it's a wonderful way to inspire a love of reading in young children!
Was the book or the movie better?  Make up your own mind—this month the Friends' Book Sale features books that have been made into movies.  Read the book and decide if your creative flair could have made the movie better.  Haven't seen the movie?  The Friends has an assortment of DVDs for your next movie marathon.
With great deals on high-quality, used books from popular fiction to home improvement, the Friends' Book Sales are your best bet for finding inspiration, pursuing passion, and discovering your next favorite author.
The Details
The Book Sale is located centrally at 2230 N. Country Club Road (SE corner of Grant and Country Club).
Member's Sale: Saturday, June 17, 2017 from 8 am to 12 pm
Not a member? Don't worry! You can become a member at the door for as little as $20.
Community Sale: Saturday and Sunday, June 24 and 25, from 8 am to 12 pm
Do You Love Your Library? Consider becoming a Friend!
In 2018, the Friends of the Pima County Public Library, a 501(c)(3) nonprofit organization, will celebrate its 50th Anniversary.
We are a group of avid library advocates dedicated to supporting the Pima County Public Library. Your purchases of books make the Pima County Public Library's children, teen and adult programs possible.
Do you enjoy all the programming that the Library offers?  Call 795-3763 or email info@pimafriends.com to learn more about your tax-deductible membership today!