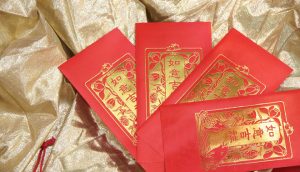 Chinese New Year starts on January 28th. The new Lunar Year will be the Year of the Rooster–if you were born in 1933, 1945, 1957, 1969, 1981, 1993, or 2005, this is your year! "Roosters" are hardworking, resourceful, courageous, and talented.
The Year of the Rooster will be a powerful one. This year, impressions count. You'll want to look your best and be clear on your intentions concerning love, money, and business. Stick to practical and well-proven paths to ensure success, rather than risky ventures.
Find more books and information about the Chinese New Year in my list here. Curious to learn more about Chinese history and holidays? Explore our Countries & Geography E-Library resources!
And remember, if you're slacking on your New Year's resolutions, it's not too late to update them for this new date! Try this list to be inspired.
Things to do to get ready for the Chinese New Year:
Clean your house (Sweep out the bad luck!) Here's a list of books to help you get organized.
Pay off any debts

 

(Do not owe any money!) Try this great personal finance list created by our Idea+Space staff to get started!
Get a haircut before the New Year starts. Here's a list celebrating the joys (and tears!) of hair.
And remember to not wash your hair on New Year's Day.

 

(Don't wash away your good luck!)
Visit friends and relatives—take them tangerines for good luck and good fortune! (Want a tangerine-buying adventure? Try our list of local Farmers' Markets!)
Wear something new on New Year's Day—red is an especially lucky color. Get inspired with this list of fashion and style books!
Light firecrackers to drive away evil spirits. (Wondering what the fireworks laws in Arizona are? Check out this popular Librarian File!)
Give children red lai-see envelopes filled with good luck money—for something sweet to eat! Chinese New Year gives instructions on how to make them!
"Gung Hay Fat Choy!"
Happy Chinese New Year!