Okay, here are my library's social media resolutions for 2015
Stop making Facebook the center of our social media strategy.
Use more graphics and video across the board, and storytelling software like Flipagram, Storehouse, and Steller.
Seriously test Meetup, SlideShare, and Instagram for use by the Library.
Keep up with emailed newsletters, and work on making them more shareable.
Experiment with Gramblr's uploader as an Instagram management tool.
Experiment on a personal level with Tsu.
Find a strong team management tool to replace Hootsuite.
Explore IFTTT to expand strategic cross-posting [example].
Give Google+ more library love.
Keep communicating to Facebook about how the changes are affecting the mom-and-pop shops and nonprofits I love, and how pay-for-play will damage the value of Facebook in the long run. Find another way to generate income (we could afford a reasonable monthly fee), or treat micro-business, government sector, and nonprofits more leniently.
How did I get there? A lot of reading and thinking, and sharing with colleagues on our Facebook group Libraries & Social Media. I thought I would organize and share the best of what I've found in the last few months. By the way, there is a companion presentation online at HaikuDeck that summarizes my findings.
Looking ahead to 2015: what might happen?
November's big changes to Facebook, and some of the reaction
The bottom line? You can still be somewhat effective on Facebook, but you need to be on top of your game, focus on providing multimedia content, and very rarely talk directly about what you offer or sell. They've gotten TOO big to offer community in all its richness.
Recent market share statistics: which communities are gaining popularity?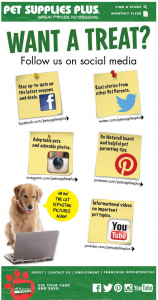 Analysis of Facebook alternatives
Surprise! An email is worth more than a 'like'
So, you want to try Instagram? A recent sampling
Smart advice for businesses & nonprofits on Pinterest
Don't count Google+ out
LinkedIn recently added a blogging platform
New platforms on the horizon
Tsu [a Tsu manifesto]
Tsu works a little like YouTube, where people who post can earn money by posting great content.
Ello
Ello promises to never sell ads, or your information.
Bonus: Just plain old good social media advice